National Volunteers' Week: Celebrating our alumni volunteer community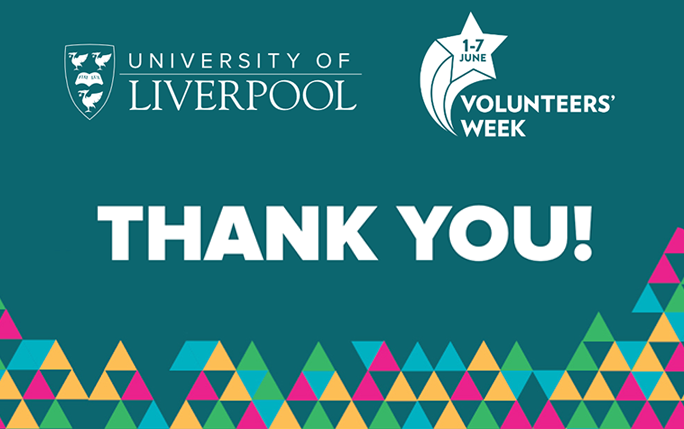 This week, to mark National Volunteers' Week, the University of Liverpool is taking the opportunity to thank its thousands of alumni volunteers who each year give their valuable time to help our students and the University achieve their ambitions.
Over the last five years, more than 4,000 alumni volunteers have donated more than 22,000 hours of their time. This includes 2,052 alumni acting as mentors and 37 professional, academic and regional networks led by alumni volunteers.
Supporting student employability is just one of the positive ways in which our volunteers contribute to the University's strategic priorities and demonstrates the impact that volunteering has for the University.
Online volunteering
Due to the pandemic, our alumni have continued offering their valuable insights through online mentoring and virtual events such as our new Bringing the World to Liverpool series. As part of this series alumni located across the globe have provided sector, career and life insights for the countries in which they live or work. Over 600 students and graduates registered, demonstrating the global impact of our alumni.
Holly Fitzgerald (BA Hons Marketing 2017) is a regular volunteer and has delivered many guest speaker sessions. She's also shared her insights with students about starting their own business and joined conversations about how the Management School's programmes can give students the skills most needed in the workplace.
Holly said: "Volunteering is something I continue to look forward to. It's fantastic to be able to give back to the place that has given me opportunities to get where I am in my career."
Alumni Associations
The University of Liverpool Veterinary Alumni Association (ULVAA) and Liverpool Law School Alumni Association (LLSAA) are volunteer-led associations that organise social events for alumni from those disciplines, as well as offering support to students through donations and by participating in guest lectures and events.
Danielle Rawlinson (LLB 2016, LLM 2017) is an active member of LLSAA and is passionate about her volunteering: "As a student I benefited greatly from the alumni network from mentoring and networking to attending lectures. So once I graduated I always knew I wanted to keep my connection to the University and give back my time in the same way that those alumni had for me. Since graduating, I have been a member of the Law Alumni Association planning events for alumni and specifically being a voice for those who graduated recently. I have also given a talk as part of a graduates panel to a wonderful group of first year law students.
"In May, I was called to the Bar and whilst I'm pre-practice at the moment, I hope to continue giving back; providing opportunities and advice to UoL students for years to come. I always say that coming back to the Law School feels like I'm coming home and it truly does feel like a family."
The Development and Alumni Relations team would like to say a huge thank to our volunteers and we hope you know how much your time and support means to our student and alumni community.
If you would like to find out about the volunteering opportunities available, contact Ellie Drake, Volunteer Engagement Officer, at Ellie.Drake@liverpool.ac.uk.