The Good Doctor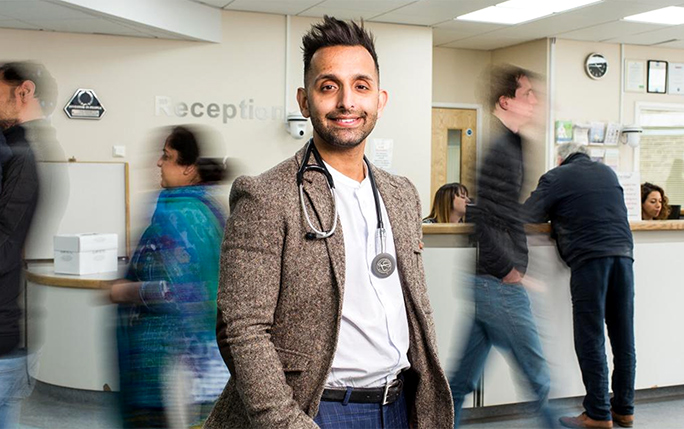 Full-time GP, TV personality and bestselling author: how does Dr Amir Khan (MBCHB 2004) do it all?
"My overwhelming feeling was relief."
Speaking to Alumni in the week that the first COVID-19 vaccine was administered in the UK, alumnus Dr Amir Khan describes how the vaccine rollout will be lifesaving – in more ways than one – for patients at his practice in inner-city Bradford.
"COVID-19 has been devastating for the large South Asian community in West Yorkshire. I'm familiar with consoling bereft families and people with long-term conditions, but not at the frequency I've sadly had to recently. So when the vaccine was announced, I was really, really relieved for my patients."
It was this tender bedside manner, coupled with his charming affability, that endeared Dr Amir to the viewing public when series six of popular fly-on-the-wall documentary show GPs: Behind Closed Doors hit UK screens in 2018. Since then, Dr Amir has published his Sunday Times bestselling memoir, The Doctor Will See You Now, and become a regular, reassuring presence on Lorraine and Good Morning Britain. But long before he became a mainstay on breakfast television, Dr Amir made his start in the world of care working in a Youth Disabled Unit, aged just 16.
"Getting to know the patients, I learnt that they had all lived such full lives; they didn't want to be defined by their ailments. I felt very lucky to talk to them, but to help them too. That was the moment that I thought medicine could be the career for me."
Following some "gentle coercion" from his mother (AKA Mama Khan), Dr Amir elected to study medicine at the University of Liverpool: "I had the best time in Liverpool, and made friends for life. I applied not knowing for sure that medicine was for me but, it turns out, Mama Khan was right; mums tend to be right most of the time!
"I enjoyed my degree immensely; the Clinical Skills sessions were the best part for me, as it was so hands-on. I was also the fifth year Class Rep so I was lucky enough to organise the graduation ball and our yearbook.
"Being part of the Liverpool Medical Student Society was amazing too; my housemate was the social secretary for two years, which helped! I have great memories of The Raz and nights in the Guild; Double Vision on a Monday and Time Tunnel on a Saturday. Great memories."
Following graduation, Dr Amir cut his teeth as a junior doctor at hospitals across Merseyside, before qualifying as a GP in 2009. In 2018, he was named 'GP Trainer of the Year' by the Royal College of General Practitioners for his efforts in coaching the next generation of GPs since 2011.
It's all about access
As an Ambassador for the National Wildlife Trust and the Butterfly Conservation Society, Dr Amir is a passionate advocate of the recuperative power of nature. But what these roles are really about, he says, is democratising access to green spaces.
"Studies show that people without regular access to nature have higher rates of type two diabetes, cardiovascular disease, and even certain cancers. It's deeply unfair that people from socially deprived backgrounds, similar to where I grew up, don't enjoy that access. Many of my patients work long hours on low incomes; after the school run and putting food on the table, you can understand why the last thing on their minds is to take their children to the woods – particularly if it takes two buses to get there."
This kind of marginalisation, compounded by funding cuts to social care, means Dr Amir's practice frequently deals with patient issues that aren't strictly medical.
"Every single day, we receive calls from people who are struggling; they can't get hold of social services, so they ring us, as we're always there to pick up the phone and take care of them. Every single day."
In light of these intense pressures – and with another book and several TV projects in the works – will Dr Amir be hanging up his stethoscope any time soon?
"Whatever other projects I'm working on, I'm a GP first and foremost – I've no plans of stopping. I can't imagine doing anything else." ●
Dr Amir's book The Doctor Will See You Now: The highs and lows of my life as an NHS GP reached #9 on the Sunday Times Bestsellers List.