Alumni memories: 50 years of friendship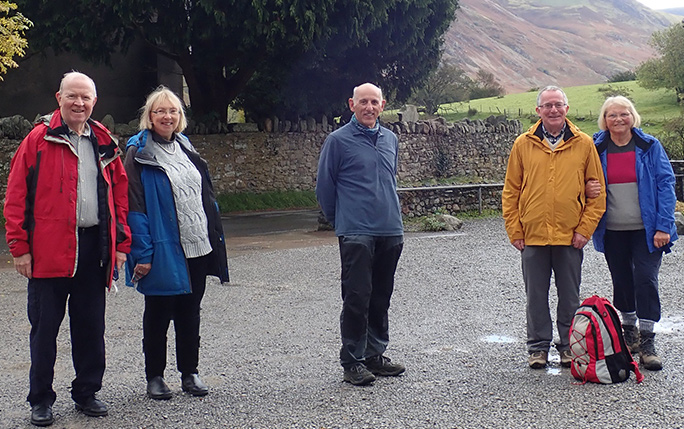 This year alumnus Dr Stephen Jones (BDS Dentistry 1974) will mark a significant anniversary. For the past 50 years, Stephen and a small group of alumni friends have met annually to celebrate the lifelong friendship that began during their student days at the University of Liverpool.
Stephen, along with his late wife Chris (MBChB 1975) whom he met at Liverpool, enjoyed enduring friendships with Elizabeth (MBChB 1975) and Robert (BEng 1973) Needham, and with Myra (MBChB 1975) and Ian (PhD 1973) Holbrook, all of whom attended Liverpool in the 1970s.
Speaking of their friendship, Steve said: "Our friendship developed during the first academic year in 1970 and we have kept in touch ever since. My late wife Chris shared accommodation with Myra and Elizabeth whilst they were undergraduates at the Medical School."
Last year, despite the challenging circumstances, the group were able to meet for a socially distanced get together in Loweswater in the Lake District, allowing them to celebrate the important milestone of their friendship.
"The meeting last year with Elizabeth, Robert, Myra and Ian went ahead as planned in the village of Loweswater.
"A walk along Loweswater through Holme Wood was undertaken before adjourning to the Kirkstile Inn for a light lunch and a general catch up. We met according to COVID-19 rules to enjoy a pleasant stroll by the lakeside and through Holme Wood; we even managed to find and pick some sloe berries from the blackthorn bushes growing amongst the hedgerows.
"Such meetings are held on an annual basis somewhere in the country; the tradition was started after we left Liverpool on graduation. The meet up at Loweswater was the first opportunity of getting together for a year. The day together made us feel as if the world of near normality had returned and the sense of isolation had evaporated for a fleeting few hours".
Stephen remembers his student days fondly and he played an active role in the student Dental Society and was President in his final year. "I adopted a 'work hard, play hard' approach in my student days. It was an exciting time to live and study in Liverpool in the early 1970s; to be part of Beatles mania and be in the city when Liverpool Football Club were flying high. I have so many great memories! Even now when I hear The Beatles it takes me back to my time at Liverpool. As the saying goes: 'You can take the boy out of Liverpool but you can't Liverpool out of the boy'."
The University of Liverpool connection remained strong for Steve and Chris, with three of their four children choosing to study at the University.
"I also still keep in touch with many of my class mates and those of us still on the Dental Register plan to hopefully meet at the Liverpool campus later this year to celebrate our years of practice."
Stephen's story shows how studying at the University of Liverpool is not only about academic experiences but also about those lifelong friendships that stay with you and make a difference in your life. Over the years, Stephen's group of friends has been a source of support and guidance as they navigated their different careers and raised their families, as well as way for them to share many happy memories.
If you would like to get in touch with friends from your student days or share your story, please contact the Alumni Relations team on alumni@liverpool.ac.uk.