Remembering Dr Gabriel M. Makhlouf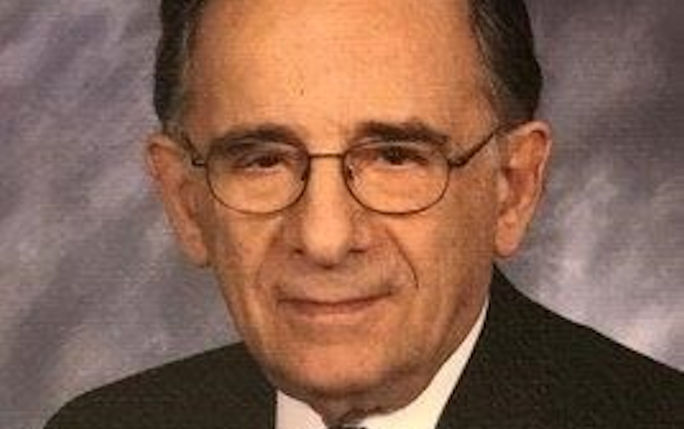 The University of Liverpool were saddened to hear of the passing of alumnus Dr Gabriel M. Makhlouf (MBChB, 1953) and extend our sincere condolences to his family.
Gabriel M. Makhlouf MD PhD FRCP (MBChB, 1953) died peacefully on January 19, 2021. He was born in 1929 in Haifa during the British Mandate of Palestine to Michel and Zahieh Makhlouf. He was predeceased by his brother, Michel M. Makhlouf; and survived by his brother, Eugene M. Makhlouf. He is survived by his three children and their families, Eliana Thacher and her husband, Hugh; Vivien Barkidjija and her husband, John and their children, John, Gabrielle, Nicholas and George; and Dr. Paul Makhlouf and his wife, Stanislava and their daughter, Emilia.
Gabriel graduated from De LaSalle College (high school) in 1946 and was awarded one of two national scholarships to study medicine at Liverpool University in England. In 1953, he graduated from medical school and then spent two years with the Jesuits in Lebanon and France before resuming his medical career, working in Palestine with the refugees under the aegis of UNRWA (United Nations Relief and Works Agency for Palestine Refugees in the Near East). He spent two years with the Ministry of Health in Kuwait, where in 1959, he met his beloved wife, Avril (nee Barnett, died 2007), an English New Zealander, world traveler, spiritual director, future scholar and talented artist, of whom he was immensely proud. They married and moved to Edinburgh, Scotland. At Edinburgh University, he resumed advanced medical research while Avril began doctoral studies in history and theology. Gabriel received advanced accreditation by the Royal College of Physicians of Scotland and England and initiated ground-breaking research in Gastroenterology. They departed to Tufts University in Boston, but not before both Gabriel and Avril were awarded Ph.D.s in their respective fields of study.

In 1970, they moved to Richmond, Virginia, where Dr. Makhlouf served as Professor of Medicine and Director of Gastroenterology Research at the Medical College of Virginia (MCV, now VCU Health). A luminary in the field of Gastroenterology, his laboratory was continuously funded for over 40 years by the National Institutes of Health (NIH) to study the functioning of the gastrointestinal tract. He published over 225 peer-reviewed papers and chapters, and his basic science and clinical discoveries were considered groundbreaking. Dr. Makhlouf served as Chairman of the NIH Study Section of Gastrointestinal Research, Chairman of the American Gastroenterological Association (AGA) Council on Hormones and Receptors and editor of several major journals and publications. Considered by the AGA as "one of the most outstanding gastrointestinal physiologists of the modern era," he was awarded numerous national and international awards, including the American Physiology Society Gastrointestinal Award; AGA Mort Grossman Distinguished Lectureship Award; Smith, Kline and French Award; Janssen Award for Lifetime Achievement in GI Motility; and the AGA Distinguished Lifetime Achievement Award. Most recently, on the occasion of his 90th birthday, VCU Health established the Gabriel Makhlouf MD Education Fund in honor of his achievements. Gabriel cared deeply about his patients and colleagues, and accordingly was awarded the AGA Mentors Research Scholar Award for his outstanding mentorship of young scientific investigators, many of whom are internationally recognized scientists in their own right.

In addition to his professional accomplishments, Gabriel was a deeply spiritual and compassionate person and spent much of his time reaching out to the sick and needy in the Richmond community. For many years, Gabriel fed the homeless at St. Peter's, where he was renowned in the homeless community for his kindness and counsel; there was often a line of people waiting to greet him when he left daily Mass in downtown Richmond. This compassion was exemplified by Gabriel's particular care for a homeless man when he was sick with cancer, helping him to reunite with his estranged family. As this man was nearing death, he asked to be baptized with Gabriel as his godfather.

A Mass of Christian Burial with immediate family was celebrated at 10 a.m. on Monday, January 25, 2021, at St. Paul's Catholic Church, followed by interment in Mount Calvary Cemetery. In lieu of flowers, memorial contributions may be made to the MCV Foundation in support of the Gabriel Makhlouf MD Education Fund and mailed to VCU Gifts & Records, Box 843042, Richmond, Va. 23284-3042 or to St. Peter's Catholic Church, 800 E. Grace Street, Richmond, Va. 23219, on behalf of Outreach to the Needy and Homeless.