An extraordinary time to graduate as a doctor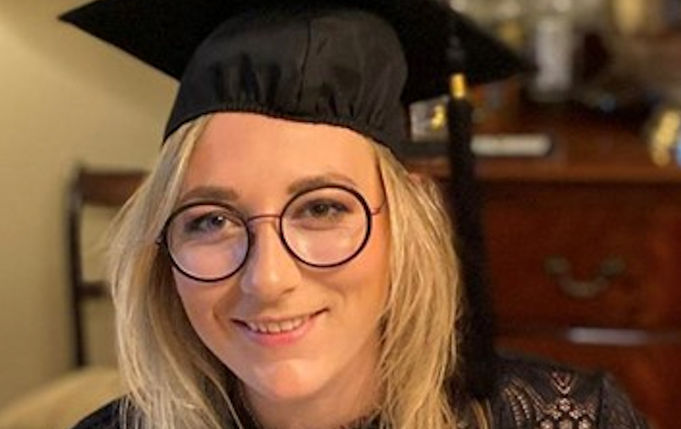 Each year, the School of Medicine celebrates excellence in academic performance, leadership, innovation and advocacy with its School Prizes. In this respect, the 2019/20 academic year was no different, although of course our students' achievements were made all the more remarkable by the extraordinary set of circumstances our student doctors were required to navigate.
On Monday 22nd March 2021, staff, students and family members gathered online to celebrate the winners; student doctors who not only rose to the challenges presented, but surpassed all expectations. One such winner was recent graduate Chloe Short (MBChB, 2020), awarded the Derby Exhibition Prize for her achievements in the OSCE, LOCAS and summative written exams.
Speaking of her achievement Chloe said:
"I am both delighted and honoured to receive this award. I loved every second of my time at the University of Liverpool and will always look back on it with fond memories. It is a prize that I have only been able to achieve with the constant support from some of the very best people including my family, friends and some amazing and wonderful staff within the School, of whom there are too many to name. It will forever be a reminder of the time spent in a dynamic and engaging environment which I hope I can be part of in the future as an educator."
Dr Chloe Short graduated in July 2020 and is currently working as an FY1 at St Helens and Knowsley NHS Trust, having just finished a respiratory and upper GI placement and about to start on gastroenterology.
She recalls what made her time at the School so special.
"I loved studying in Liverpool, not only the university but the city itself are both so diverse. The city has so much to offer, world class places to eat out, a vibrant cultural scene and close to the Lake District for getting outdoors. The university reflects the city in every way; diverse, engaging and inspiring. It's a fantastic place to learn and the number of specialist centres across the region give you the chance to come across conditions that you might only ever see once in a career."
Chloe was part of the student doctor cohort who stepped into the innovative Sub FY1 role, specially created by Liverpool School of Medicine to offer crucial support to the NHS when it needed it the most.
"My final year was a rollercoaster but one I'm grateful for. Sub FY1 was tough, emotionally heavy but an opportunity to put into practice everything we'd trained to do and a great transition from medical school to FY1 life. It's a privilege to be with people when they can't be with the people they love the most and share some of their most vulnerable moments. It's an experience I'll never forget and one that I hope made a difference to the people I cared for."
She now looks back on her time at the School with a new perspective. What advice would she have for her first-year self?
"There will be moments when you doubt yourself, whether that be your career choice or your ability, but getting through those moments is what makes you a better and more rounded individual and doctor."
Congratulations to Chloe and to all School of Medicine Prize winners for their incredible achievements in such an extraordinary year.