Alumni Memories: A band called Palace Sack & Bag Company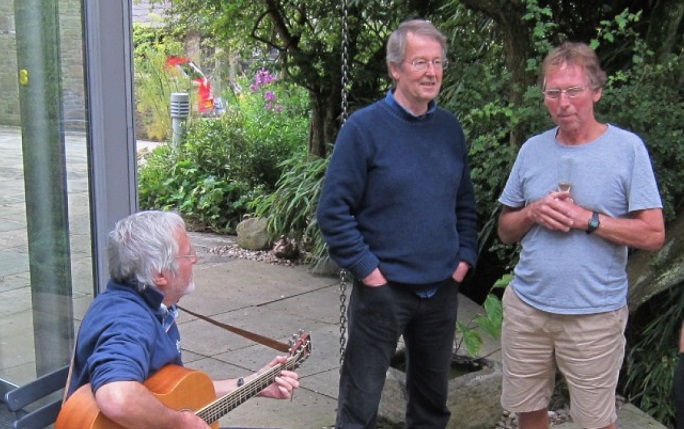 Our University days are full of some of the greatest achievements and most treasured memories of our lifetimes. We love hearing stories from our alumni of those special days and are delighted to share them in our new 'Alumni Memories' series. In the first of our stories, alumnus Dr Rod Andrew (Electrical Engineering & Electronics, 1967, PhD, 1972) shares his memories of being a student in the 1960s and forming a band with friends.
"Our five-strong group met in 1964 at and around Rathbone Hall (H11-20). This was Liverpool, 1966; there was almost an obligation to be in a band. So, the 'Palace Sack & Bag Company', a name spotted by Roger on a roof in London, was born. We were: Neill Fozard (Architecture & keyboards), Rod Andrew (Electrical Engineering & guitar), Roger Stephenson (Architecture & bass guitar), J. D. McCall (Architecture & drums… though he had to learn how first!) and Andy Garner (Physics/Metallurgy & roadie)."
"We did our first concert at RC Chaplaincy opposite the Union with just one snare drum quickly acquired from a pawnshop. We improved, even occasionally practised, and played throughout our remaining three university years, including some 'advanced studies'. We provided good solid blues/rock music people could still dance to at a time when bands were starting to become more esoteric and undanceable as flower power kicked in."
"At one point we acquired a singer who looked as if she only came out after dark, and right at the end a much older gentleman who heard us from the street and presented himself at the door of 140 Upper Parly St wearing a frock coat and with a gleaming saxophone in its open case at his feet. He asked in a suitably gravelly voice: "D'ya mind if I come in and have a blow?". I could not make this stuff up!"
"We remained musical in our separate ways with Neill and John as key members of the Derbyshire-based 'Downfall Band' until 2019 offering GGRR: Genuine Geriatric Rock & Roll. After a break of 46 years and zero opportunity to practise, the original 'Palace Sack & Bag Company' reunited and played on borrowed gear at a landmark birthday in 2015! Some fans even said we were better than the main act, but that's 70-year old groupies for you! The trick was to play the few numbers we could still all remember and get off stage quick."
"Of the band, our 3 architects had highly successful practices, Roger won an OBE, Neill now lives in a converted lockkeeper's cottage on the upper reach of the Leeds-Liverpool canal, Andy left for Vancouver where he still lives but became a world authority on corrosion in the paper industry, and sadly John just recently left spaceship Earth. For me, I left the UK in the 1977 economic crisis, founded a successful laser company in Belgium, and now live in Northern France, still at work, and still play much of the same music. The survivors remain closely in touch, we all owe an immense amount of our success and happiness to the amazing opportunities offered by what we figured was the best university in the land, and where we were highly privileged to be at a truly golden time!"
The University of Liverpool wouldn't be the same without the amazing memories of our alumni community. If you have a funny memory or interesting story to share from your time as a University of Liverpool student, we would love to hear it: alumni@liverpool.ac.uk.