Recording success at 85 for University of Liverpool alumnus, Alan Jones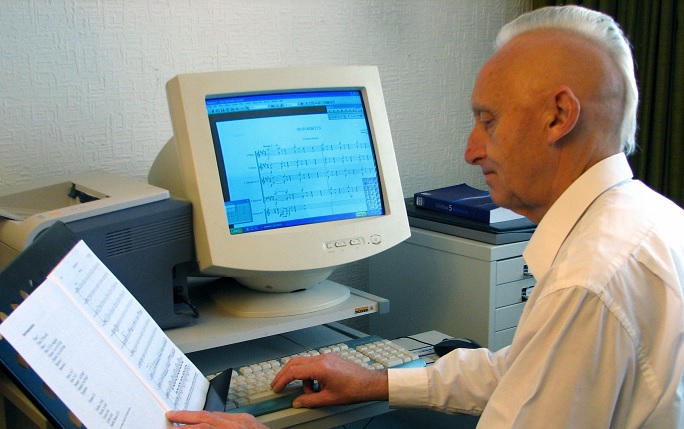 Local Liverpool man and University of Liverpool alumnus Alan Jones (BSc Chemistry 1961, MMus 2000) has achieved a lifetime ambition by having one of his classical music compositions issued as a commercial recording at the age of 85.
The composition, a work for 15 solo musicians entitled Three Times Five is included in a CD which was released in January 2021 by Ablaze Records. Alan's composition was recorded by the Brno Philharmonic Orchestra of the Czech Republic conducted by Robert Kružík. The CD, which is also available for streaming, is entitled 'Sinfonia Series Vol. 2' and can be obtained here.
Despite his lifelong passion for music, Alan's main ambition in his early student days was to become a research chemist, having visited the University laboratories with his father, Leonard Ellwood Jones, who also graduated from the University of Liverpool with an MSc in Chemistry in the 1920s.
Alan said: "During my school days I was torn between a career in Music and a career in Chemistry but eventually decided that it was more realistic to aim to be a professional scientist and amateur musician than to be a professional musician and amateur scientist."
Alan said: "My success as an amateur musician has been mainly as a violinist, although I have dabbled in composition since childhood. As a student in Chemistry, after National Service, I continued to be active in music. I was Leader of the Orchestra and fulfilled various posts within the Liverpool University Music Society (LUMS). I was twice winner of the LUMS Alsop Prize for composition."
After graduating from the University in 1961, Alan embarked on a career in senior administration at the University, but never gave up on his dreams. On his retirement, he commenced studies with the Department of Music and graduated with a Masters of Music in 2000. Alan is now looking forward to his next goal of hearing some of his compositions performed live, in particular 'Three Times Five', which has not yet received a live performance.
After many years as a musician, the University of Liverpool is incredibly proud to hear of Alan's success. Further to this, as a supporter of the University's new Yoko Ono Lennon Centre, Alan's generosity will continue to support future generations of music-lovers to pursue their dreams.
Professor Catherine Tackley, Head of the Department of Music at the University of Liverpool said: "The Tung Auditorium in the Yoko Ono Lennon Centre will be a fantastic facility for all students with a love of music, regardless of academic discipline or background. Alan's passion for music and commitment to achieve his dreams is truly inspiring, and a wonderful reminder to us all that there is always time to pursue your greatest ambitions. We look forward to welcoming him to visit the Centre on its completion, and send our sincerest congratulations to him on his fantastic achievement."
If you would like to share your story with us, please email: giving@liverpool.ac.uk. To find out more about the Yoko Ono Lennon Centre, please visit our website.