Staffordshire County Council colleagues discover they were all Carnatic residents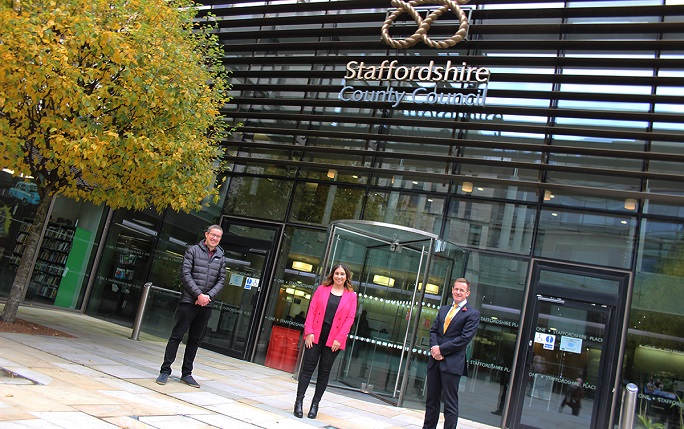 With over 220,000 University of Liverpool graduates around the world, there's a chance you are never too far from a fellow alum. For Alan White, Leader of Staffordshire County Council and University of Liverpool graduate, it was a surprise to discover two of his colleagues were not only Liverpool alumni, but also Carnatic residents.
Since graduating from the University of Liverpool in 1991, Alan attended the Royal Military Academy Sandhurst where he was commissioned into the Parachute Regiment. After 10 years military service, he moved into business development, with an interest in politics alongside that eventually took him to his current role as Leader of the County Council in Staffordshire.
Alan said: "I have very fond memories of Liverpool. I will always remember the ducks in the ponds in Carnatic which I think may well have been the fattest ducks in Liverpool because of all the bread rolls we used to feed them on the way out of the refectory every evening. I lost count of the number of laps I ran around Sefton Park, but I remember it being a lovely part of the City."
"I always like to ask members of the County Council staff to tell me a bit about themselves when I first meet them. When I asked Lily, she told me that she had recently been working in Liverpool, to which I replied that I had some fond memories of the City, having been to university there. She said she had been at university there too, and once we had clarified which university we were talking about, we then discovered that we had been in the same hall. She told me about Tom who I met up with subsequently when the three of us shared some memories of Liverpool."
Lily Saeidi (Communication and Media, 2017) lived in McNair Hall in 2014/15. After graduating from the University, Lily started work at the council back home in Staffordshire, but soon found herself back in Liverpool. When the pandemic hit, Lily was able was able to return home and to the council.
After meeting Alan and reminiscing on her time at the University, Lily said: "It was fun to see the legacy of Carnatic has lasted all these years. I have such happy memories of university, especially in Carnatic, such as getting the last 699 bus into town, and drinking numerous Fat Frogs after queuing an hour to get into The Raz on a Monday night."
For Tom Hobbins (Modern History and Politics, 1998), who lived in Rankin Hall in 1995/96, his post-University life began with some travels east to west across the US, before he trained as a journalist and now covers communications around the economy, business and transport at Staffordshire County Council.
Tom said: "As the Carnatic site is now a part of history, it was great to catch up, reminisce and share some photos. My memories of Carnatic were arriving there, meeting my next-door neighbour (who I am still great friends with) and going to the bar, several times over the course of that year. I could go on about the pubs in Liverpool but I'm sure we're all experienced visitors!"
If you have a story to tell about where life has taken you since graduation or a memory to share from your university days, we would love to hear it. Contact alumni@liverpool.ac.uk to share your story with the University of Liverpool community.