Antarctic 'Thomas Glacier' is named after University of Liverpool alumnus Professor David N Thomas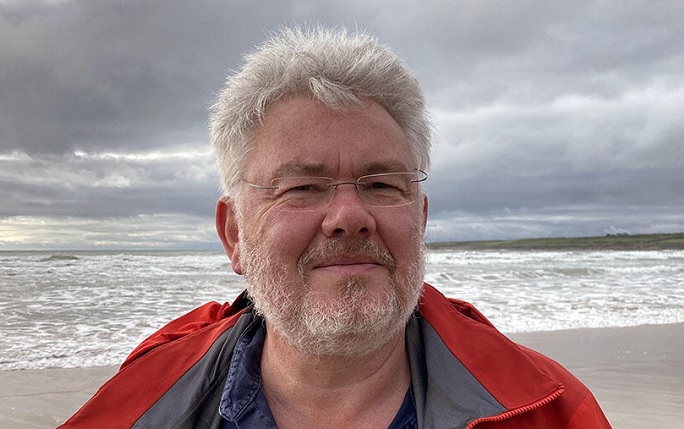 University of Liverpool alumnus Professor David N Thomas (BSc Environmental Biology 1984; PhD Botany 1988) has been honoured with the naming of a glacier in the Antarctic Peninsula. The naming celebrates his exceptional contribution to furthering the understanding, protection and management of the region.
On 3 December 2020, to mark the 200th Anniversary of the Discovery of Antarctica, the Government of the British Antarctic Territory announced 28 new place names to honour and celebrate scientists, explorers, logisticians and others who have made a significant contribution to the UK's scientific and exploration record in Antarctica. Those recognised represent leading UK Antarctic scientists from the last fifty years, whose achievements warrant highlighting alongside those of the early explorers.
Since graduating from the University of Liverpool in 1988, as a marine ecologist, Professor Thomas has completed six expeditions to the Southern Ocean, and several other expeditions in the Arctic. He conceived the idea for, and edited the three editions, of the hugely influential book, Sea Ice, and has held senior roles at Bangor University and is now Professor of Arctic Ecosystems Research at the University of Helsinki. He has recently edited a another landmark book, Arctic Ecology just published in January 2021.
Thomas Glacier can be found on Palmer Land, the southern part of the Antarctic Peninsula, and measures around 23km long and 3km wide. The glacier flows north from the Wegener Range, between Fogg Highland and Heezen Glacier and enters the Violante Inlet (72°51'S, 61°09'W).
Of the Thomas Glacier naming, Professor Thomas said: "This is an unexpected and humbling honour, recognising my modest contribution to sea ice research. My type of research is based around team work and there are so many colleagues, ship's crew, logistics support who have made my work possible. As always, I owe them a great debt of gratitude."
The University of Liverpool is proud of the contributions Professor Thomas has made to understanding of Polar regions, and delighted he has been recognised in such a remarkable, incredible way.