VJ75 – Remembering Far East Prisoner of War Secret Artists
Commemorations marking the 75th anniversary of the ending of the Second World War – VJ Day75 – continued in mid-August with the re-launch of the Liverpool School of Tropical Medicine's (LSTM) 'Captive Memories' website, on VJ Day, 15 August.
In addition to hosting LSTM's FEPOW medical and history research studies, Captive Memories now features a virtual tour of the Far East prisoner of war (FEPOW) 'Secret Art of Survival' exhibition. Hosted by the Victoria Gallery & Museum, the exhibition was abruptly curtailed in March due to the pandemic after only four of its eight-month run. However, despite the early closure, VG&M logged well over 12,000 visits to the exhibition.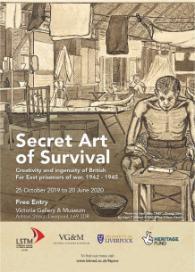 Secret Art of Survival was funded largely by a Lottery Heritage Fund award and organised in partnership with the University of Liverpool and LSTM. The exhibition was the culmination of LSTM's seven-year-long FEPOW art research project. It has uncovered the secret artwork of 69 previously unrecognised British FEPOW artists, both trained and keen amateurs. As the keeping of any writing materials was strictly prohibited by the Japanese, these men took huge risks during captivity to record and keep hidden evidence of their living conditions, the abundant flora and fauna, as well as the people around them.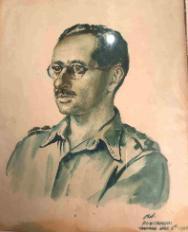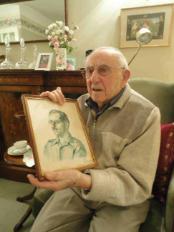 Left: Portrait of Liverpool alumnus (1937), dental officer Capt David Arkush RDC, painted in camp in Thailand, December 1943 by Gunner A.G. Old (courtesy the Bartholomew family). Right: David aged 98 holding the portrait (© courtesy the Arkush family)
Having survived and returned home, many of these men, like trained artist Gunner Ashley Old who painted the portrait above, found it impossible to share their experiences, and in many cases, their art. Many of the exhibits displayed in Secret Art of Survival had lain hidden in suitcases and boxes for decades.
One of the many amateur FEPOW artists featured was Ulsterman and POW medical officer, Captain Thomas Wilson RAMC. Having survived camps in Singapore and Thailand, Capt Wilson was one of thousands of FEPOW repatriates who landed back in Liverpool 75 years ago this autumn. Towards the end of his career, in 1962 he was appointed by the University of Liverpool to the Middlemass Hunt Chair in Tropical Hygiene at LSTM.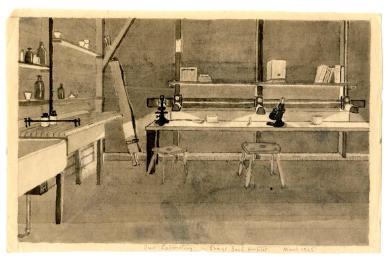 Captioned, "Our Laboratory, Changi POW Camp Hospital", Singapore April 1945. by Captain Wilson RAMC (© and courtesy the Wilson family)
This is one of four of his 14 distinctive pen and watercolour sketches that were on display in the exhibition and depicts the medical laboratory in his final camp in Singapore's Changi Gaol.
The Captive Memories website is a work in progress and more artwork and stories about the artists who created this extraordinary canon of war art will be uploaded during the coming months. Also now available, are new downloadable Education and FEPOW family Resource Packs to help share this still little-known history, plus details of the three books co-authored by LSTM researchers, Emeritus Professor Geoff Gill (MA Tropical Medicine 1999, PhD 2009) and Meg Parkes (MPhil Tropical Medicine, 2013).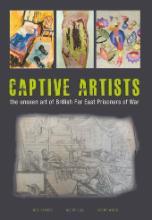 The most recent book, Captive Artists, the unseen art of British Far East prisoners of war, charts all 69 artists revealed by the enquiry and was written in collaboration with Jenny Wood, retired senior art curator at the Imperial War Museums.
For more information about LSTM's FEPOW research studies, contact
Meg Parkes MPhil parkes@lstmed.ac.uk