In Memoriam: Philip Ayrton-Grime (MRCVS 1950, BVSc 2016)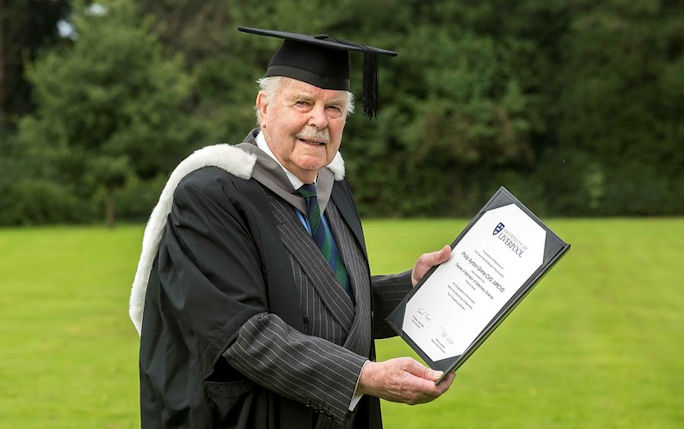 The University of Liverpool and the University of Liverpool Veterinary Alumni Association (ULVAA) were saddened to hear of the passing of Philip Ayrton-Grime (MRCVS 1950, BVSc 2016) in June 2020.
Philip had a long and successful career in the veterinary profession, most notably as Queen Elizabeth II's personal veterinary surgeon.
After attending the royal stables in Windsor to treat Princess Elizabeth's horse shortly after he qualified as a vet in 1950, he was entrusted with the care of her corgis as well as other animals belonging to the Royal Household.
Born in Preston, Lancashire in 1926, Philip studied veterinary science at the University and first practised at the William Street Practice in Windsor, which had a long-held association with the Royal Family.
His work supporting the Royal Family and their precious pets put him in good stead, and he soon began to build a comprehensive list of clientele among the local gentry. He is considered to have been the first vet to fit a dog with an artificial hip.
Alongside his extensive work with dogs he also worked with racehorse owners and trainers, offering his services at the Royal Windsor Horse Show and Ascot Racecourse.
Ayrton-Grime was a keen mentor to students and young vets alike, balancing his strict attitude with good humour and affability.
He retired in the early 1980s and continued to work privately for the Queen, being appointed a Commander of the Royal Victorian Order for his services. He was a close acquaintance of the Royal Family and was known to sit for the occasional sherry with Queen Elizabeth II herself.
In 2016 Philip returned to the University and was awarded an Honorary Bachelor of Veterinary Science degree. At the time he studied, the BVSc degree was not a prerequisite for a veterinary career and Ayrton-Grime was one of many students who chose to only sit the MRCVS exam, which enabled him to become a practising vet.
Philip is survived by his wife, Anne and three daughters and a son: Charlotte, Deborah, Gerard and Olivia. Here at the University of Liverpool we join them in remembering Philip for his distinguished career and send our thoughts and deepest condolences.