Student-led initiatives supported by alumni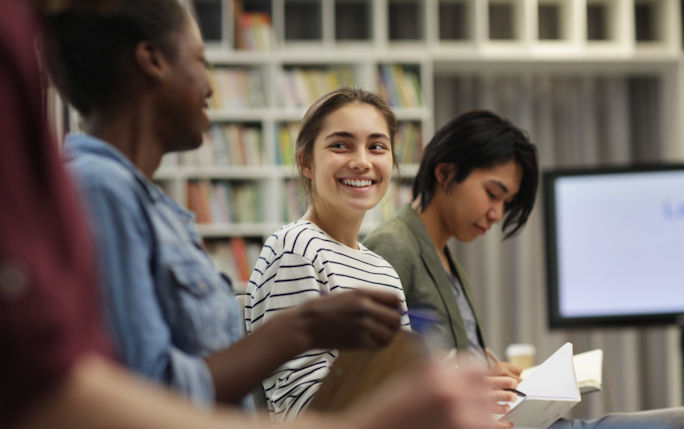 Each year the University of Liverpool Veterinary Alumni Association (ULVAA) receives monetary donations from alumni that helps to support our activities. We invite students to apply to us for funding to support academic activities as well as non-academic activities that promote wellbeing. From sports clubs to exchanges with other vet schools, here is a round-up of the activities from last year.
International Veterinary Student Association Liverpool – Keeley Orrin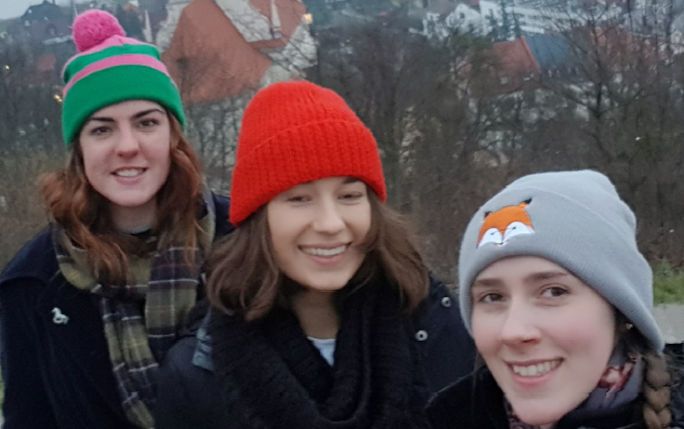 Earlier this year members of the International Veterinary Student Association (IVSA) Liverpool travelled to Lublin, Poland to participate in a vet school exchange programme.
While there they met with veterinary students from throughout Europe who were on Erasmus at Lublin University. This was a brilliant opportunity to chat to a range of veterinary students about the differences in education and practice across the continent. They also enjoyed a haematology practical at Lublin University labs, practised hoof trimming on the resident University horses, and visited an anatomy museum housed within the University itself.
The group also had time to take part in a number of cultural activities visiting the Warsaw Uprising Museum, Majdanek Concentration Camp, and the Copernicus Museum. This was a brilliant opportunity to learn about another country and experience veterinary science in a different setting – a trip not to be forgotten.
Read the IVSA Exchange Report to find out more.
Vets Squash Club - Joanna Brás-Goldberg Kelly Hylton, Arabella Slack, Kiko Oughton and Hannah Seymour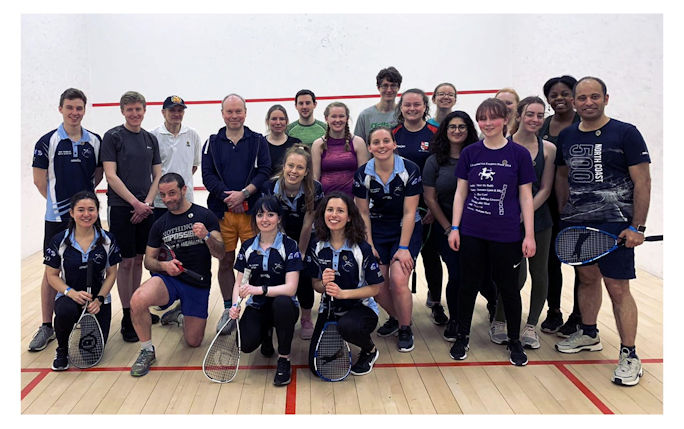 This year we built on last year's end of semester tournament by hosting a Staff vs. Student competition. We had huge interest from students and staff alike which made for a busy match schedule, and many of our new members were also keen to take part, which was fantastic to see! Following on from the success of our Wellbeing Session earlier in the year, we charged a small fee to take part and donated all proceeds to Vetlife.
Everyone played in two matches, either against a staff member or another student, and with the support of student volunteers as stewards and referees, the Committee were able to ensure the whole day ran smoothly. Funding from ULVAA was used to purchase prizes - pin badges for everyone who took part and a trophy for the overall winner (Team Staff or Team Student). This year Team Student were victorious, but the trophy will be displayed on campus and contested in future years.
Our overall aim was to make the competition as inclusive as possible and establish a link between students and staff. Both the staff and students enjoyed the opportunity to interact and get to know each other in a more relaxed way outside of the lecture theatre environment. Therefore, we aim to make this an annual competition and include staff in the club's day-to-day activities, from our weekly training sessions to our Sunday league.
The club would once again like to thank the ULVAA for their funding as it allowed us to further raise our club profile and hopefully set the foundations for a new Vet School tradition!
Liverpool University Veterinary Men's RUFC Committee 2019/2020 - Scott Christy, Greg Devoy, William Prydderch, Toby Anderson, Timothy Down, Jack Walmsley and Henry Finnigan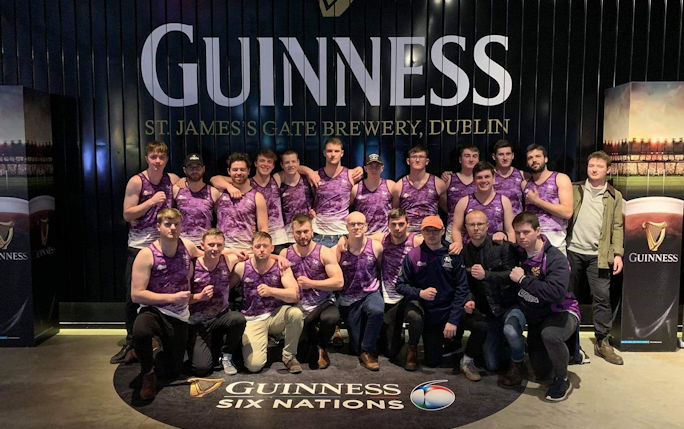 It has been a challenging year for the Liverpool University Veterinary Men's RUFC; poor weather affected the early season, and then the later stages were written off entirely as a result of the current pandemic. Despite these setbacks, the team has also had plenty to celebrate including a much-needed record intake of new students into the team, and a successful tour in Ireland hosted by the Dublin University Veterinary Rugby Team.
This tour was the first for the club for over half a decade and would not have been possible without the sponsorship and support of ULVAA, as well as Flanagan's Apple and the Liverpool University Veterinary Society. The sponsorship provided by ULVAA was used to purchase new training kit and a new set of match balls, thereby allowing us to appear more professional during both training and matches, and ultimately bringing us closer as a team.

Next season will hopefully see the club competing in Division 2 South of the North West Intermediate Rugby Union Leagues, where we will be focused on building up our player group whilst keeping promotion well within our sights. With the addition of a tour secretary to our committee, we hope touring will become an annual event which will bolster relations amongst the UK vet schools whilst giving us the opportunity to maintain our position as the highest achieving veterinary rugby team in the UK.
Liverpool Small Animal Veterinary Society - Grace Ward and Natalie Urwin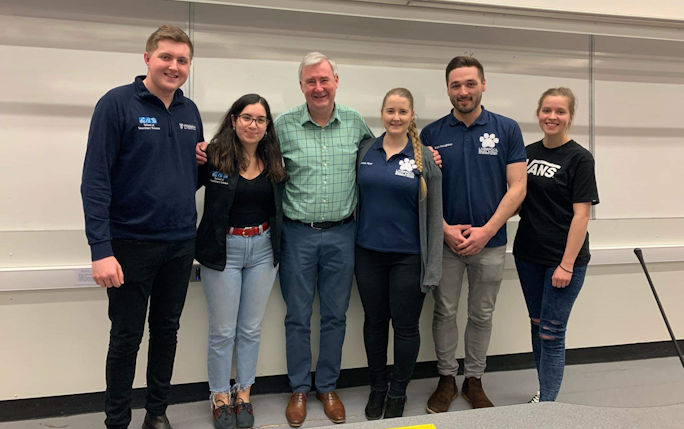 On the 20 February 2020 the University of Liverpool welcomed Peter Wright (TV's Yorkshire Vet) to give an inspiring talk on his life in the footsteps of Herriot. The event was organised by Liverpool Small Animal Veterinary Society made possible thanks to the generous funding provided by the ULVAA.
The turnout was excellent, with students from all years attending, and provided Peter with a lecture theatre full of enthusiastic faces. We were told stories of his time in practice and anecdotes of his experiences as a student at Liverpool – it was very refreshing to hear that the social side of vet school has always been as lively as it is today! Peter was also kind enough to stay after his talk to chat to students, as well as sign books and take photos.
Overall this talk was both insightful and entertaining, with many students expressing how this evening left them feeling inspired towards furthering their own veterinary career. Veterinary student Evie Sellars said: "Coming from rural Yorkshire myself, I could identify with Peter's fears and aspirations of going to university in a big city. His childhood dreams of being a mixed animal vet resonated with me also. I have always been a fan of the Yorkshire Vet programmes, like many vet students, but since the talk I have read both his books and seen a different side of the profession."
We want to thank Peter Wright for his time and ULVAA for enabling us to organise this event.