Mike Keating's unusual guide to Liverpool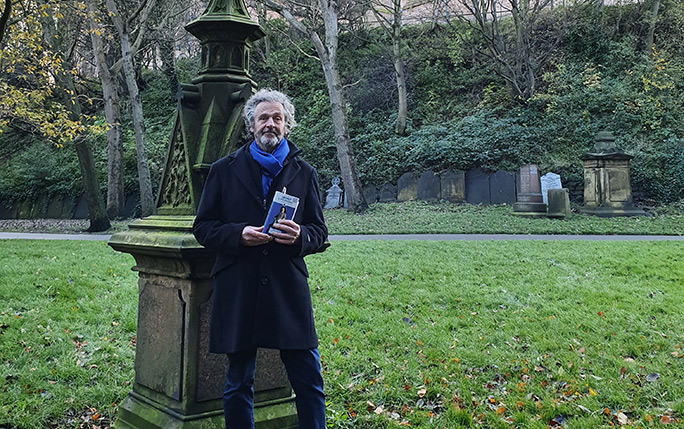 Mike Keating graduated from the University of Liverpool in 1972 with a BA (Hons) in Social Studies. After retiring three years ago from his career as university lecturer, he was commissioned to write Secret Liverpool – An Unusual Guide by Jonglez Publishing, and that is where his search for curiosities, mysteries, and little-known facts began.
The book features 150 places, secrets, and facts which he discovered by asking people one simple thing: "Tell me something about Liverpool that I don't know". This simple but effective method of investigation allowed him to discover a variety of interesting stories, places and monuments, such as the Beatles Statue on the Pier Head, which hides a few secrets including John Lennon's statue holding two acorns representing those that he and Yoko Ono sent to world leaders as a symbol of peace, and George Harrison's Sanskrit writing on the belt of his coat which Mike Keating found out to be the Hare Krishna mantra, inspired both by George Harrison's ties to Indian culture and Hinduism, but also by some people singing the chant outside of the artist's studio while he was working on this sculpture.
The book includes many other fascinating facts, such as that there was a moment in the 19th century when thousands of cows were kept in the city. A few of the cow houses which supplied fresh milk and cheese to Liverpool still stand today and are a testament to a different time when the city had both urban and rural aspects. The last cow house closed in 1975.
In the book, there are also several places, works of art, and curiosities that are on the University campus, like the Adagio, a 30 feet sculpture created by Marianne Forrest. This was originally displayed at the back of the main stage at the Liverpool Philharmonic Hall and is now in the Harold Cohen Library. Many other works reside on campus, including artworks by Barbara Hepworth and Mitzi Cunliffe.
Although his book contains an incredible variety of surprising stories, Mike Keating has many more in store and they will be featured in a second volume which he is already working on.
Secret Liverpool is the ideal companion for those who are staying at home during the holidays and are looking for things to do in Merseyside.