University of Liverpool alumni and staff acknowledged in Queen's Birthday Honours 2020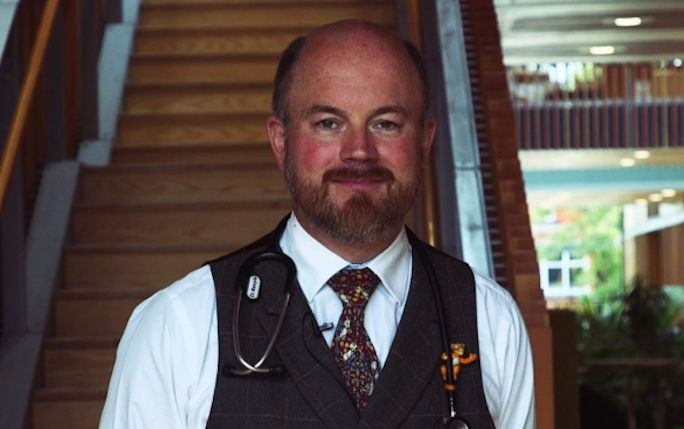 As well as Professor Calum Semple OBE (pictured) who received an OBE for his services to the COVID-19 response, a number of University of Liverpool alumni have been recognised in the Queen's Birthday Honours for 2020.
Among those honoured:
Paul Barry-Walsh (BA Hons Economics & Economic History 1976), Founder of Fredericks Foundation was awarded an OBE for services to Enterprise and charity
Lauren Batey (MSc Investigative & Forensic Psychology 2015), Civil Servant, was awarded an OBE for services to the Protection of Vulnerable Children during COVID-19
Andrew Bentley (BA Hons Music 1985), Chief Executive, Storyhouse received a BEM for services to Libraries and the Arts
Professor Phil Redmond CBE FRSA (BA Hons Social Studies 1977, HonLittD 2010) was made a Knight Bachelor for services to Broadcasting and Arts in the Regions
Professor Simon Wright (BDS 2000), Principal Partner, Glencairn Dental Practice was made an MBE for services to Patient Safety in Dentistry
In addition to the achievements of our alumni, the University of Liverpool's Professor Calum Semple, Professor of Child Health and Outbreak Medicine and Consultant Respiratory Paediatrician at Alder Hey Children's Hospital, was awarded an OBE in the Queen's Birthday Honours for his services to the COVID-19 response.
As a member of the Scientific Advisory Group for Emergencies (SAGE), Professor Semple has played a key role in advising the UK Government on COVID-19 and has appeared regularly as an expert in the media throughout the pandemic.
As the Chief Investigator of the International Severe Acute Respiratory and Emerging Infection Consortium (ISARIC) Clinical Characterisation Protocol UK (CCP-UK), Professor Semple and his colleagues have collected, distributed and analysed thousands of COVID-19 specimens over the past nine months. The results have helped inform the outbreak response and patient care, not just in the UK but internationally, and will continue to do so.
Professor Semple said: "I am delighted to be honoured by this award and wish to express my profound gratitude for the support of my clinical research colleagues. They include dedicated research nurses, volunteer medical students and my collaborators at our great hospitals and universities."
"It is sobering to reflect on the impact of HIV, Ebola and now COVID-19 on people's health, societal wellbeing and the economies of affected countries. This has driven my work with the International Severe Acute Respiratory and emerging Infection Consortium (ISARIC) to prevent illness and death from infectious disease outbreaks. This award suggests we have succeeded in some measure."
Postponed to include people who played a crucial role during the nation's COVID-19 effort, this year's Queen's Birthday Honours list recognises doctors, nurses, fundraisers and volunteers who have made outstanding contributions to the UK's coronavirus response.
The University of Liverpool is incredibly proud of the work of all within its community who have contributed towards the COVID-19 emergency response, and we applaud all alumni and staff who have been recognised in the Queen's Birthday Honours.