Alumni attend first online reunions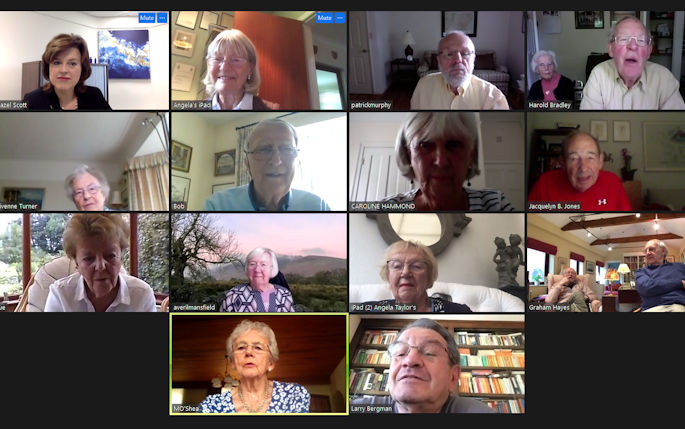 Class Year reunions are a great way for alumni to reconnect, reminisce and often gives an opportunity for people to return to Liverpool and celebrate their time since graduating.
Since March, like many places, we've adapted our work to suit an online format. A part of this work was identifying how we could best support reunions whilst we're unable to meet in person.
Across August and September the French Classes of 1977-1983 and the Medicine Class of 1960 both held online reunions. With full support from the Alumni Relations team, reunion organisers were able to host a bespoke, online Zoom meeting for people to come together and catch up before any future, in person reunion events.
French alumni were welcomed by reunion organisers Charles Neame (BA Hons, French 1980) and Jackie Sale (BA Hons, French 1980), who after a round of introductions from those in attendance, hear from Professor Charles Forsdick, James Barrow Professor of French and recent undergraduate student Ellen Common (BA, French and Hispanic Studies 2020). They provided a unique insight into the workings of the University of Liverpool French department in 2020. After a fascinating Q&A about what modern life at the University is like, as well as how the French literary canon has evolved over time, the group participated in a short quiz and then continued their conversations and celebrations.
Co-organiser Charles said of the event:
"I really enjoyed it, and it has definitely whetted my appetite to go for the real thing in Liverpool when circumstances allow once more. The overview of studying French at Liverpool today was absolutely fascinating, and quite a few of us agreed that we would love to study what is now a very different and multi-faceted curriculum - even if we might find the lack of long 19th century novels disconcerting!"
At the beginning of September, we were also happy to host the Medicine Class of 1960 (pictured). Celebrating a milestone anniversary of 60 years since graduating from the University, plans for an in person reunion were halted in the spring. It was important to mark such a special occasion and 12 members of the class year came together to watch a video update from Professor Hazel Scott, Dean of the School of Medicine as well as participate in a Q&A. The cohort enjoyed catching up and reminiscing about their time in Liverpool, with many expressing what a delightful way it was to spend an afternoon.
Speaking of the online event, Professor Scott said:
"It was such a pleasure to meet colleagues, whose initial journey at the School of Medicine those years ago has been followed by such interesting and distinguished careers across the globe. I really enjoyed discussing news of the School now and sharing images of the many amazing things our students are doing -some in societies that these alumni established! The School is bigger now than then, but we are still very much a family and the closeness of the zoom room approach to our Alumni gathering also added to the sense of being a family together, rather than the more formal atmosphere that the traditional approach to such events can create."
Though our online reunion offer by no means replaces the special nature of an in person reunion, we hope that these will act as a small way to connect with people from years gone by until we are all able to meet again.
If you're considering organising a reunion in the future or would like more information on how to reconnect with old class mates contact the Alumni Relations team via: alumni@liverpool.ac.uk and we will be happy to help.