Thanks to our International Volunteers!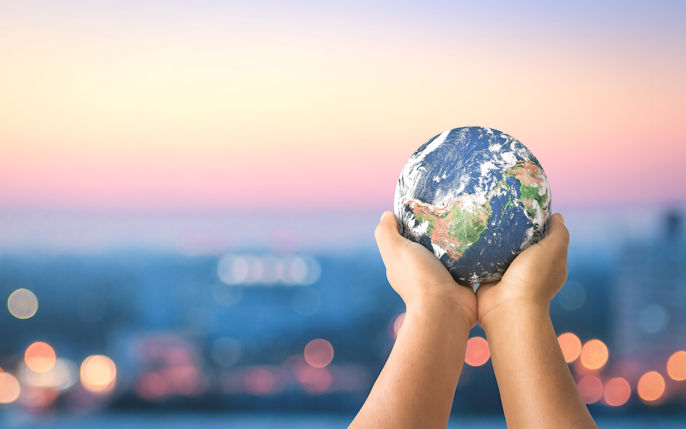 The next day in our volunteer week series sees us celebrate the fantastic role our international volunteers play in engaging our vast international community across the globe. We are truly grateful for the role our international volunteers play in building resilient communities and promoting the University of Liverpool in their own countries.
During this difficult time our international community has been fantastic in helping us coordinate donations to help the UK in its fight against COVID-19. To date our international volunteers have donated more than 85,000 pieces of Personal Protective Equipment (PPE) which is being donated to NHS trusts around Liverpool, as well as University staff who are researching COVID-19 and vaccinations. Thank you to our international community for their overwhelming support.
Our international volunteers help to engage 232,000 graduates in 191 countries and, with 35 volunteers over 6 continents, they make it possible for us to have formal alumni networks, hold events and co-ordinate country-specific social media.
We are aware that it is a difficult time for a lot of people at the moment but we are continuing to meet as a community online. From 9 June we are hosting a series of international themed events which will focus on graduates who have worked in different international settings which we are calling 'Bringing the World to Liverpool'. These events are available for everyone and are a great chance to listen to your fellow graduates' professional journeys, as well as network with your alumni network. To find out more information about these events please contact andy.harrison@liverpool.ac.uk. We are also planning much more online activity with our international networks in the coming months so please look out for more announcements on this.
In 2019, international volunteers helped us plan and lead 26 events in ten countries, this included a special event celebrating the 20th anniversary of the Liverpool-Shanghai Sister City partnership, as well as events in Hong Kong, the Cayman Islands and Malaysia.
Since August 2019 we've held a further 18 events in six countries, including an alumni event held in Shanghai in November, attended by over 70 guests, during which the Deputy Mayor of Liverpool, Cllr. Gary Millar, awarded certificates to our volunteers in China, thanking them for their contributions. Alumni volunteers in China, have contributed more than 200 volunteer hours to support events, mentoring and recruitment activities since September 2019.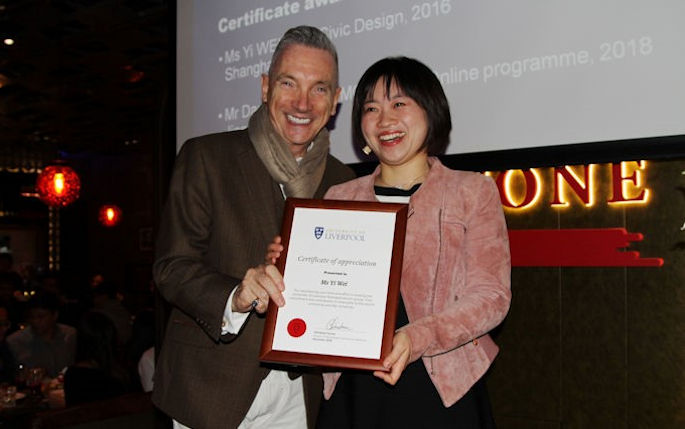 Pictured: Deputy Mayor, Cllr. Gary Millar with alumna Yi Wei at an alumni event in November 2019.
A key international volunteer, Falguni, one of our German-speaking alumni ambassadors said the following about her experience of volunteering:
"Setting up local events is a great opportunity to meet and greet fellow alumni members. Local events are a reason to connect and get to know new faces and meet old faces again. As an alumni ambassador, I try to make gatherings as interactive as possible by organising events in different cities and offering a city tour before we wine and dine.
Also the support from alumni engagement officers has been very pleasant and made organising a local event simply a 'walk in a park'."
Our newest network, is the Netherlands alumni network. Established by Michael Marr (BSc Computer Science 2019) who now lives in Amsterdam, the Netherlands network will host regular events across the country for University of Liverpool graduates. On setting up the network Michael commented:
"I always tried to do as much as I could at University whether it be with societies or extra-curricular/volunteering opportunities. Since graduating and moving to a different country I found those opportunities were more difficult to come across. I noticed the University had international alumni networks across the world but there was not one in place for The Netherlands. I saw this as an opportunity to continue being involved and to give something back as well as strengthen University ties."
We want to take the opportunity to say thank you to all of our international volunteers. Your invaluable contributions help to keep our alumni engaged and connected, as well as continuing to showcase the University of Liverpool as a truly international and global community. We couldn't do it without you!
We always welcome new volunteers and with a variety of fully supported opportunities, we are sure that you can find something that suits you. For more information about how to get involved contact Andy Harrison, International Alumni Engagement Officer at andy.harrison@liverpool.ac.uk.