And the winner is…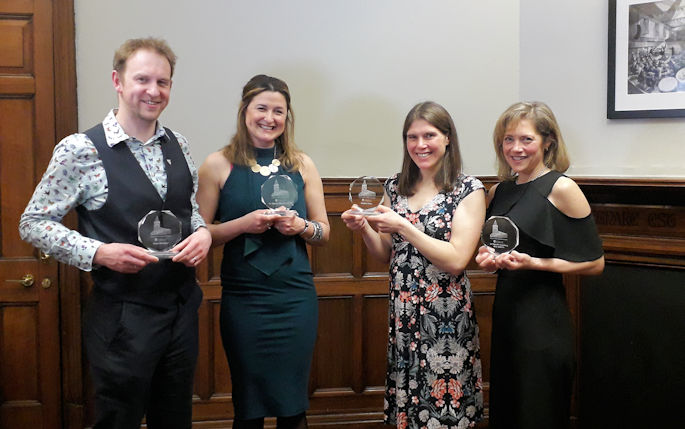 The inaugural University of Liverpool Alumni Awards were established to allow us to recognise the many and varied achievements of our alumni community. Our alumni are the University's greatest asset and four veterinary graduates were presented with these awards in the 2019 round.
Dr Ebony Escalona (BSc 2007; BVSc 2009)
Since graduating, Ebony has worked as a first opinion vet in North Wales, completed an equine internship at the Philip Leverhulme Equine Hospital, and a PhD with Imperial College London in collaboration with Liverpool, as well as being a locum equine vet in the North West and an advisor to the equine charity, Brooke.
In 2017, Ebony set up Vets: Stay, Go or Diversity (VSGD) to combat the growing problem of vets leaving the profession. "Watching too many of my friends burning out before they had a chance to truly shine led me to set up a career support network to showcase the wonderful and varied things you can do with a veterinary degree or 'vet passport', Unfortunately the veterinary world is full of 'wounded healers', people who are great at helping others but not always themselves. I wanted to provide a positive outlet to support career diversity and sharing ways people can thrive," she said.
Since its launch in 2017, VSGD has reached a global community of over 13,000 members and has hosted a live event with more than 300 attendees, as well as delegates streaming online. In 2018 Ebony was recognised by the RCVS with the first RCVS Inspiration Award and last year Ebony was also invited to the Queen's Garden Party for her work with VSGD.
Dr Danielle Greenberg (BVSc 1998)
Danielle is the Director at The Liverpool Vets, an independent veterinary practice in Liverpool City Centre. Her work with animals in and around the city is what makes her stand out from the crowd.
In 2016 Danielle underwent major surgery and struggled to walk. "I feared I'd never work as a vet again" she said. From her bed she looked into ways to utilise her skills and came across the "Care for the Paw" charity.
"The charity delivers food and bedding for dogs belonging to homeless people in the city centre and I asked if they could use a non-walking vet. 'Can you put in microchips?' was the response, and I started to hobble down to the Bombed Out Church, where I sat on the stone fence and helped where I could."
Luckily Danielle was able to regain the use of her legs. "Now I go out on a Saturday night to check on the dogs, and any who need veterinary treatment can receive it on the streets or occasionally at my clinic."
Setting up The Liverpool Vets gave Danielle another avenue to help the local community. Not only does it act as a donation point for dog food, blankets and coats, but its foundation was set up to counter the ever-increasing corporatisation of the industry.
In 2019, Danielle was award 'Vet of the Year' by Petplan. You can watch more about Danielle's work here.
Jasmin Paris (BVSc 2008)
Jasmin is a Clinical Lecturer at the University of Edinburgh and the 2019 winner of the Montane Spine Race, one of the world's toughest endurance races.
Following graduation, Jasmin worked as a vet for a year in a small animal practice near Glossop, Derbyshire, completed a year's small animal rotating internship in Minnesota, USA followed by a three year residency in small animal internal medicine in Edinburgh. It was her move to Edinburgh that prompted her to start running.
The Spine Race is a 268 mile race along the Pennine Way from Edale in Derbyshire to Kirk Yetholm in the Scottish Borders. The race is run annually in mid-January. Competitors are required to carry all their kit (sleeping bag, shelter, cooking equipment, food and clothing) and navigate the race unaided through all weather conditions, mostly in darkness.
Jasmin finished first overall, becoming the first female to win the race outright, and broke the existing male record by 12 hours, completing the race in just 83 hours and 12 minutes.
Jasmin said "It's a great honour to receive an Alumni Award, and I feel very grateful for the family and friends who have made it possible. I hope that by highlighting my story in this way it may serve as an inspiration to others – regardless of age, gender or background, to take on new challenges, push their boundaries and perhaps surprise themselves at just how far they can really go."
Dr Sean Wensley (BVSc 2003)
Sean is a global advocate for animal welfare. During his time as a student, he applied for a vacation scholarship funded by the Universities Federation for Animal Welfare. "It opened my eyes to the world of animal welfare science – understanding how animals perceive the world; understanding their needs and wants and their pleasures and pains; and discovering how this scientific understanding is informing and shaping our ethical judgements about how animals should be treated and used for human benefit," he said.
After graduating, Sean studied for an MSc at Edinburgh and in 2008 joined the UK veterinary charity, PDSA, as a Senior Veterinary Surgeon for Communication and Education. His work with the charity and his own interests in animal welfare led him to become involved with the BVA. In 2014 he joined the BVA council and in 2015/16 served as President.
Under his presidency, the BVA launched its 'Animal Welfare Strategy'. In 2017, Sean's work was recognised on a global scale, receiving the World Veterinary Association's Global Animal Welfare Award for Europe.
Feeling inspired? In 2020, the University will again celebrate 20 Liverpool alumni and we need you to nominate them. Further information can be found via: https://alumni.liv.ac.uk/meet-our-alumni/alumni-awards/