Spotlight on: volunteering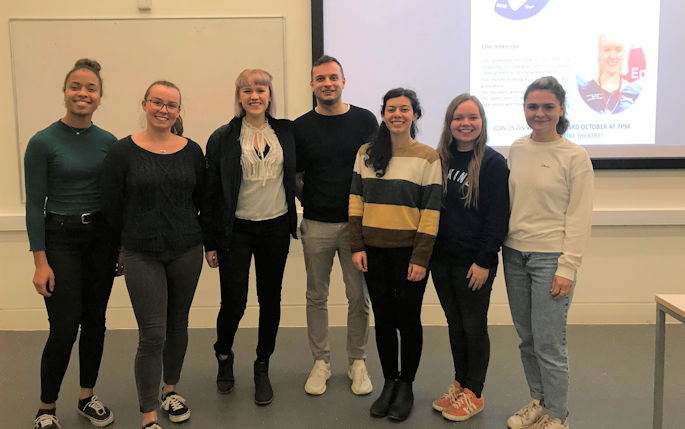 Each year we welcome vets, including alumni, back to the University to deliver lectures to the current student body. Here the Student Veterinary Emergency Critical Care Society (SVECCS) Committee tell us about one of their lectures. It is never too early, or to late, to volunteer your time and experience to the University.
University of Liverpool's Student Veterinary Emergency Critical Care Society (SVECCS) were delighted to welcome David B. Owen and Ellie Jenkinson (BVSc 2019) from Vets Now Manchester to deliver their first talk of the year. They taught fourth and final year students about initial stabilisation of the small animal emergency patient to increase students' confidence in dealing with emergencies from triage to treatment. Ellie graduated from Liverpool last year and is currently a rotating intern at Vets Now Manchester. She presented the first half of the interactive session and students were also keen to hear about her experience of working in emergency critical care as a new graduate.
Ellie said: "At first I was a little apprehensive about coming back to lecture so soon after qualifying, but my nerves were short lived as the society made me feel very welcomed. I realised that though I'd only been working for a few months, I had a lot of information that I wanted to pass on to the students. I hope that this introduction to emergency medicine will inspire students to learn more about the subject, and make them less anxious about finding themselves in an emergency situation."
The SVECCS Committee went on to say: "David and Ellie talked us through emergency care step-by-step, allowing us to approach cases in a calm and logical manner. This started with organisation as the patient arrives to ensure the multi-disciplinary vet practice team can manage the immediate needs of patient and client as effectively as possible and perform triage. Basic care pertinent to all cases such as oxygen supplementation and analgesia was discussed next, followed by emergency diagnostics. We finished with major body systems stabilisation, with a focus on treatment of the four types of shock. Interactive cases put the theory into context, highlighting key points such as the importance of a major body system exam to avoid focussing on the most obvious presenting problem (such as a broken limb) instead of the life threatening one (such as internal haemorrhage)."
Interested in volunteering your time or skills? We're always looking to help alumni that wish to volunteer. You can sign up to our online eNetworking and mentoring platform Liverpool Connect or for further information about other volunteering opportunities get in touch via: ellie.drake@liverpool.ac.uk