Call the Midwife stars support University's COVID-19 Campaign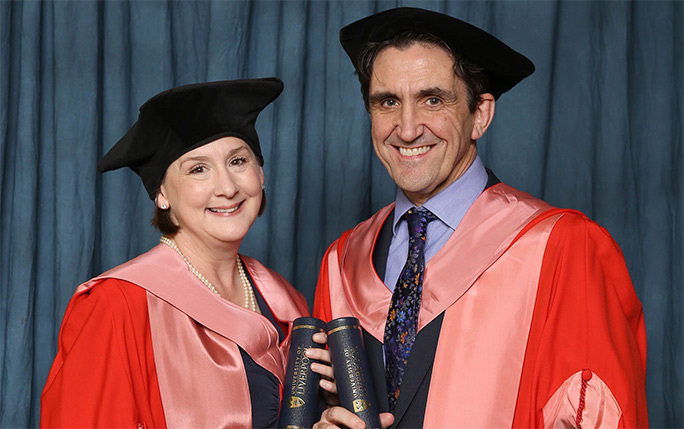 Alumni and honorary graduates Heidi Thomas and Stephen McGann have given their support to the University of Liverpool's COVID-19 Emergency Response Campaign.
The campaign will raise urgently-needed funding to support our research programme that is looking at treatments and a vaccine as well as providing vital supplies to the NHS.

All research resources at the University have been redirected to urgently support the study of COVID-19, with over 150 researchers focusing their efforts on better understanding of the disease.

Alumni and supporters have been quick to respond since the campaign launched last week, with £61,951 raised so far. This funding will join government and existing rapid-response philanthropic contributions to advance the University's COVID-19 research.

Heidi Thomas (BA Hons English Language & Literature 1983, Hon LittD 2019) and Stephen McGann (Hon LittD 2019) were among the first to respond.

Heidi is a multi-award winning screenwriter, producer and playwright. She is best known as the creator of the global hit BBC series Call the Midwife, with other works including Cranford, Upstairs Downstairs, Ballet Shoes and I Capture the Castle.

Stephen is an actor, author and science communicator. Born in Liverpool, he began his acting career in 1982 in London's West End and is currently starring as Dr Turner in Call the Midwife. Stephen is a keen public speaker and writer on the social dimensions of science and medicine in popular culture. His book Flesh and Blood: A History of My Family in Seven Maladies traced the history of his family against a backdrop of medical progress and social change.

Stephen said: "Me and Heidi are proud to donate to the University of Liverpool's new emergency fundraising campaign to fight against COVID-19. The money supports vital research, and gives assistance to medical staff on the front line. Please help if you can."

Professor Dame Janet Beer, University of Liverpool Vice-Chancellor, said: "We would like to thank Heidi and Stephen for their incredible support for our COVID-19 Emergency Response Campaign. Their donation, and those of our other supporters, will allow us to fund ground-breaking research into the understanding and treatment of coronavirus. It enables work that will save lives and for that we can't thank them enough."

For more information about the campaign and how you can support it, visit the campaign page.