Inspiring alumni take part in #InspiredFutures2020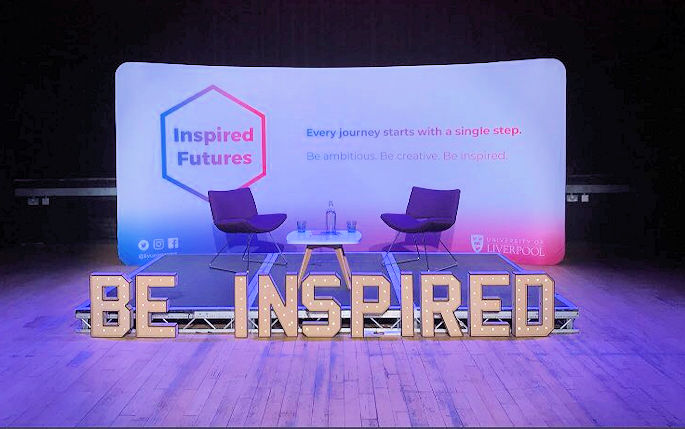 Earlier this year, 11 alumni returned to the heart of campus to participate in #InspiredFutures2020, the brand new event from Careers and Employability.
Held in Mountford Hall over the course of a day, students listened to the experiences and insights from alumni, local businesses and organisations about what it's like to work in different sectors and industries. The aim of the event was to showcase the wide-ranging career fields open to students who are thinking about what life after university will look like, offered in a format slightly different to the more traditional careers fairs.
The event began with a networking breakfast followed by a captivating and inspiring opening keynote interview with Nisha Katona MBE, a British chef, food writer, television presenter and founder of Mowgli Street Food restaurants.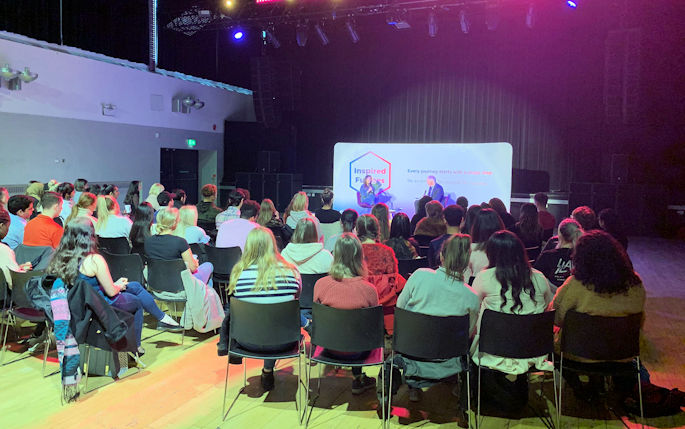 Nisha spoke about the experience her career has given her of working in two completely different fields. She began by practicing law for over 20 years until she made the decision to undertake a significant career change into the world of food and restaurants, quickly becoming the first national Indian restaurant chain, with 11 restaurants opening in just 5 years. Nisha spoke of what drove her to make the change, the barriers she has faced and overcome, and how she has embedded community and charity into the heart of what she does.
Throughout the day hundreds of students participated in interactive panel talks, engaging with alumni in a range of roles, from research and development, journalism and publishing, conservation and sustainability as well as politics and government. The event also welcomed back Alumni Award winner Lucy Byrne who was a part of the panel for Careers in Creative Industries.
The participation of alumni at the event allowed students to obtain an understanding directly from people who not too long ago had been in their position. These valuable insights allowed students to find out more about different sectors that may not directly align to their current studies as well as enabling alumni to be a part of directly shaping the experience of students, helping to support them when thinking about future employability.
Alumnus Chris Torpey (BSc Physics 2007) works at BidoLito! Liverpool's free, independent music magazine and joined Lucy on the Careers in Creative Industries panel. Of the event he said:
"It was interesting to hear from people in slightly different situations speak about their experiences – and I think it was good for the students to hear from people in our backgrounds as well.
"I had about five conversations with students afterwards, and two of them have since followed up on those conversations over email as well. It was nice to be able to chat face to face with them as well, and it was handy for them to ask more specific questions."
Dr Katherine Robertson, Business Development Manager at STFC Laboratory said that students coming to speak to alumni to ask more tailored questions after each panel was her "favourite bit of the event" and Nicola Euston (BA Hons Archaeology 2004) and Head of Museums and Galleries at the University of Liverpool expressed what a good experience it was and how students "showed a lot of interest and asked some really insightful and thoughtful questions".
If you would like to be involved in supporting students with employability or would like further information about volunteering opportunities please get in touch via: ellie.drake@liverpool.ac.uk.