Remembering alumnus Roger Ewbank (BVSc 1957, MVSc 1970)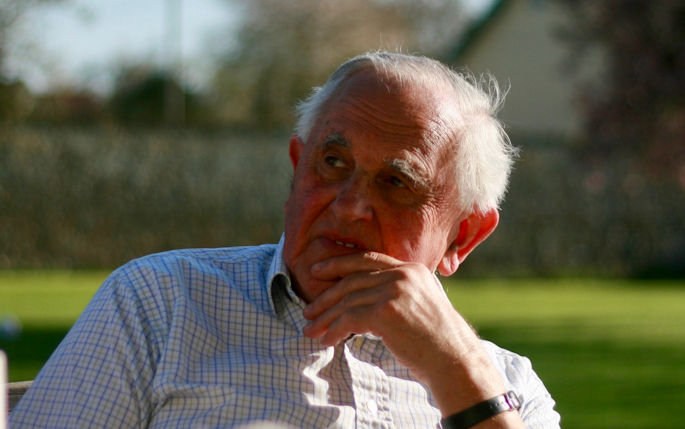 The University of Liverpool was saddened to hear of the passing of alumnus Roger Ewbank (BVSc 1957, MVSc 1970). A committed member of the University of Liverpool Veterinary Alumni Association (ULVAA) Committee, his peer and colleague Catherine Payne-Johnson (BVSc 1977) details his illustrious life and career.
"Veterinary alumni who graduated in the 1960s and 70s will be saddened to hear that Roger Ewbank (BVSc 1957, MVSc 1970) died on the 16th November 2019, aged 88 years. He taught Animal Husbandry to second and third year students. He had a cheerful, calm demeanour. Wearing a brown stock coat with a narrow, leather belt, he presided over animal handling classes at Leahurst, offering encouragement to the uninitiated. He also had an endearing habit of unofficially altering the schedules and duration of an all-day lecture programme on Fridays so that the day finished early and everyone could get away for the weekend. His lectures were concise and entertaining.
"Roger came from Manchester. He qualified in 1957 and went into practice. He initially worked in Sutton Coldfield with Miss Mary Brancker (who later became the first woman President of the BVA), before moving to mixed practice in Hereford. In 1962 he returned to Leahurst, joining the Department of Animal Husbandry under Professor J.O.L. King. He was very interested in Animal Behaviour and Animal Welfare across the species. He was particularly fond of pigs. During his career he published over 150 papers and contributed to a number of books across a wide range of topics. These included the behaviour of cattle in crushes, tail biting in pigs, suckling behaviour in lambs and the influence on lying down on environmental bovine mastitis. He obtained his MVSc and sat on the Farm Animal Welfare Advisory Committee. He was also interested in Veterinary History and researched the history of the Liverpool Veterinary School as an off shoot of the Royal Dick School of Veterinary Studies in Edinburgh.
"In 1979, Roger was appointed Director of the University Federation for Animal Welfare (UFAW), a role he fulfilled with distinction. He was the founder editor of the journal, Animal Welfare. He introduced student project vacation grants and participated in developing welfare inspections of zoos in Great Britain and continental Europe. He was awarded an OBE in 1989 for services to Animal Welfare. In 2005, an Honorary Doctorate of Science was conferred upon him by the University of Lincoln. He retained a strong interest in developments in the Faculty of Veterinary Science at Liverpool and was a long serving member of the ULVAA Committee.
On a personal level, he was a modest, knowledgeable, congenial and gentle man, completely without rancour. He was happily married to Professor Inga-Stina (PhD 1973), who came from Sweden and was a distinguished Professor of English Literature at several institutions, including the University of Liverpool. She died in 2004 and he retired to Ashbourne Derbyshire. We send our sincere condolences to his family, Jane, Kit and Emily."
Catherine Payne-Johnson (BVSc 1977)