Bangalore Alumni Event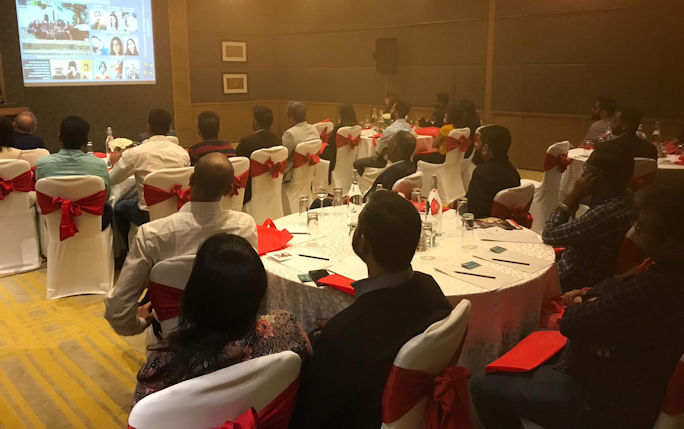 The Development and Alumni Relations team recently held an alumni reception in Bangalore, welcoming 23 alumni and their guests, to officially launch a new alumni network in the region hosted by Professor Anthony Hollander, Pro-Vice-Chancellor for Research & Impact.
Professor Hollander provided guests with an update on the latest news from the University before handing over to Professor Soumyen Bandyopadhyay, Sir James Stirling Chair in Architecture who presented examples of his recent work, particularly focusing on developing UNESCO world heritage sites. Professor Helen Sharp also spoke about our partnership with the National Institute of Mental Health and Neuroscience in child development.
Professor Hollander then officially opened the new network in Bangalore which will see graduates in the area plan future events and build up a strong network of contacts who also studied at the University of Liverpool. Vibha Vasuki (LLM International Human Rights Law, 2018) who attended the event, said: "The alumni event was wonderful and it was so great to interact with folks from the University. I'm looking forward to more events and building the network in Bangalore."
The evening was rounded off with some fine food and networking amongst guests. Caroline Mitchell, Head of Alumni Engagement, who attended the event, said: "It was fantastic to see so many Liverpool graduates in attendance, sharing their fond memories of Liverpool. Thanks to all those who attended the event and made it such a huge success. We look forward to establishing this new network in Bangalore and making it a huge success."
There will be lots more activity in the region planned for graduates and if you would like to become part of the network please contact Andy Harrison, International Alumni Engagement Officer, at andy.harrison@liverpool.ac.uk. The network is also looking to establish a WhatsApp group for graduates to keep in touch, please also contact Andy if you would like to join this group.