Vet students win innovation competition with assistance from alumni mentor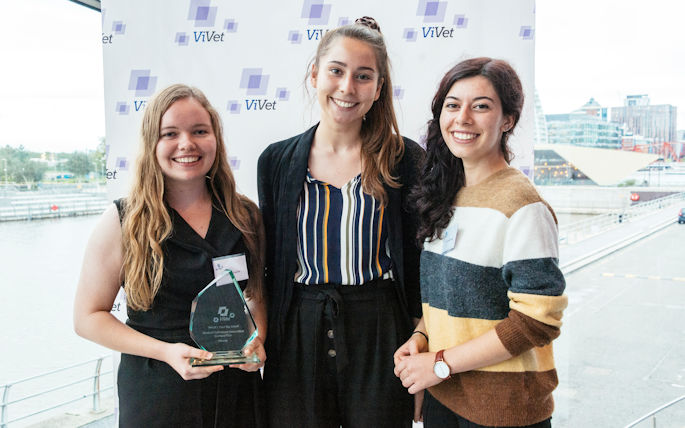 Final year veterinary students Ana Almeida Warren and Christina Ratcliffe won the ViVet Student Innovation Competition 2019 with their idea "VetCase", an app designed to consolidate knowledge and build confidence through virtual first opinion cases. Stacey Blease (BVSc 2009) acted as their mentor during the competition. Here Ana, Christina and Stacey tell us about the competition.
What was the competition?
The Vet Futures and ViVet "What's your big idea?" was a competition aimed at veterinary students to come up with novel ideas to improve the veterinary industry. Contestants had to develop a project based on a problem they perceived and come up with an innovative solution.
What idea did you come up with?
Our idea is an app called "VetCase" which is designed to help veterinary students consolidate their knowledge and build problem-solving skills through a variety of virtual first opinion cases. The app would include features that would represent a realistic approach to the challenges of first-opinion practice.
How did you connect with Stacey?
Stacey was assigned to us as a mentor at the beginning of the competition. Once we started developing our idea, we were in touch via email and Skype calls. Stacey was really supportive from the start and provided us with regular feedback. Her insight and guidance was invaluable and it was great to finally meet her in person at the symposium.
What was it like to be a mentor, Stacey?
Mentoring Ana and Christina was an absolute pleasure. One of the first questions I asked them, was about their motivation to develop the app. Their desire to help their peers really resonated with me. I was impressed with their commitment to the competition over the summer months whilst juggling EMS placements and travel plans. To see the app evolve after our discussions was very rewarding. Having the opportunity to see Christina and Ana confidently present their idea during the RCVS Innovation Symposium was definitely a proud mentor moment!
Tell us about the symposium and the announcement that you had won?
The competition final was held during the RCVS ViVet Innovation Symposium 2019. It was a fantastic experience to attend the symposium, which covered topics ranging from artificial intelligence to genomics and use of big data. We presented our idea pitch in front of the audience and a judging panel of industry professionals. After the presentation, it was amazing to receive positive comments and encouragement from professionals and entrepreneurs - the announcement that we had won the competition was the icing on the cake!
What's next? Is your app actually going to be created?
We hope so! We are already looking into how we can make our idea become reality.