Alumni Events in China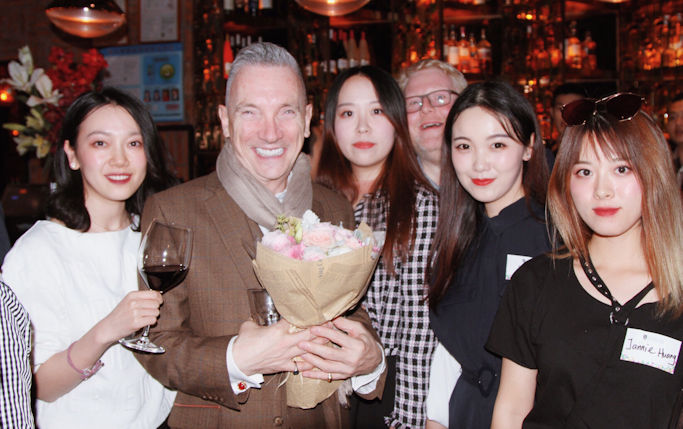 The Development and Alumni Relations Team has recently returned from China, where the team hosted a series of events for graduates organised by Haibei Feng, the newly appointed Alumni Engagement Manager in China.
More than 70 guests attended a University of Liverpool Alumni event in Shanghai on Friday 8 November, including, from Liverpool City Council, Mr Gary Millar, Deputy Mayor of Liverpool, and Mr Tris Brown, Head of the Mayor of Liverpool's office. There were also more than 60 University of Liverpool graduates and current online students in attendance, giving guests the opportunity to reunite with their classmates, forge new friendships and hear the latest updates from the University.
Gary Millar was on hand to award certificates to two graduates for their hard work and contribution towards the creation and running of the Shanghai and Jiangsu alumni Wechat groups, which have proved hugely successful since they were launched a couple of months ago. Thanks again to Ms Yi Wei (MSc Civic Design 2016) and Mr Darren Seah (MSc Management 2018) for their hard work and commitment in organising these groups.
The evening was rounded off with an entertaining Liverpool-themed quiz, testing the guests' knowledge of their memories of the city. The quiz was a huge success and helped bring back some fond memories of their time in Liverpool. Thanks go to Mr Chester Zheng Qiu (MSc Consumer Marketing 2010), Mr Tianhe Qi (MSc General Management 2012) and Mr Jun Yao (MSE Operations & Supply Chain Management 2005) for providing the prizes and gifts for the quiz.
An alumni event hosted earlier that week in Beijing on Saturday 2 November, saw 20 graduates take part in a mini landscaping DIY event which gave guests the opportunity to create their own miniature landscape designs. The event also saw Anita Irving, Associate Director of Alumni Engagement & Regular Giving provide an update to guests on the latest news from the University and future plans for the alumni network in Beijing.
A certificate was awarded to Ms Jun Liao (MSc Consumer Marketing 2015) for her valued contribution to the Beijing alumni group and there was also a prize for the best mini landscape design, with thanks to Mr Jun Yao (MSE Operations & Supply Chain Management 2005) for sponsoring the prize.
We would like to thank everyone who attended the recent events in China and made them such a huge success. Haibei will be organising future events so please check the alumni events calendar on our website or contact Haibei at haibei.feng@liverpool.ac.uk to be added to one of our official Liverpool alumni WeChat groups.