Singapore Alumni Events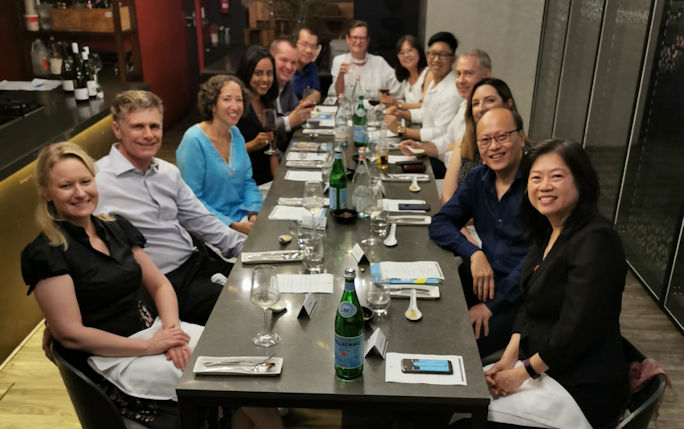 The Development and Alumni Relations team were in Singapore last week alongside representatives from the University of Liverpool Law School hosting a series of meetings and events with graduates.
On Friday, the University hosted an informal gathering for 40 graduates after work at city centre bar, The Winery. There were some really interesting memories of Liverpool being shared amongst graduates and it was great to see some many of our alumni talking about their time at the University with such fondness.
There is an active WhatsApp group for graduates living in Singapore with regular news and updates from the University. There were some fantastic videos and photos shared from the recent events so if you would like to join the group please contact Andy Harrison, International Alumni Officer, via: andy.harrison@liverpool.ac.uk.
It was fantastic to see so many recent graduates at the event and hear how graduates are using their University of Liverpool degrees to start successful careers in a wide variety of fields.
On Saturday, we welcomed the BA (Hons) Criminology & Security Class of 2019 graduates to our growing alumni community. The graduation ceremony took place at the Singapore Institute of Technology at Dover and was presided over by Professor Debra Morris, Dean of the School of Law & Social Justice.
A great way of further developing your career and building-up a global network is to sign up to our free online mentoring platform, Liverpool Connect. Liverpool Connect is a space for University of Liverpool students past and present to benefit from the insight of our alumni community by networking and sharing professional experience. Alumni can search for fellow graduates by course, employer and location amongst others, making it a great resource to help develop your professional networking community.
We would like to thank everyone who attended the events in Singapore and made them such a huge success. Anita and the team will be returning in the near future for more events so please check the alumni events calendar on our website and make sure we have your current email address and contact details to get notified as soon as they are announced.