Malaysian Alumni Events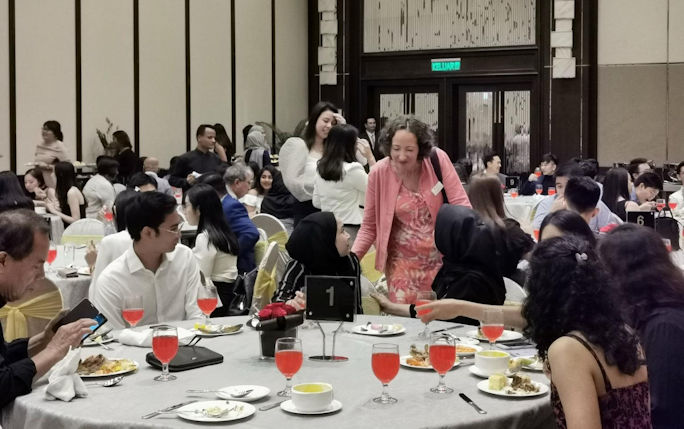 The Development and Alumni Relations team have been in Malaysia this week alongside representatives from the University of Liverpool Law School hosting a series of meetings and events with graduates.
The main event was hosted in Kuala Lumpur attracting more than 100 Malaysian graduates for an evening of networking and fine dining. The event included speeches from Anita Irving, Associate Director of Alumni Engagement & Regular Giving; Professor Debra Morris, Dean of the School of Law and Social Justice and Wan Muhammad Amin Wan Yahya (LLB 1995), member of the University of Liverpool Malaysian Alumni Association (ULMAA).
The alumni association, which will celebrate its 10th anniversary next year, is currently thriving with a recent surge in membership. The ULMAA committee plan regular events in Malaysia across the year and will be organising special celebrations for their 10th anniversary. If you would like to join the association and take part in these events please contact them via: alumni.malaysia@liverpool.ac.uk for more information.
It was fantastic to see so many recent graduates at the event and hear how graduates are using their University of Liverpool degrees to start successful careers in a wide variety of fields.
A great way of further developing your career and building-up a global network is to sign up to our free online mentoring platform, Liverpool Connect. Liverpool Connect is a space for University of Liverpool students past and present to benefit from the insight of our alumni community by networking and sharing professional experience. Alumni can search for fellow graduates by course, employer and location amongst others, making it a great resource to help develop your professional networking community.
We would like to thank everyone who attended the events in Malaysia and made them such a huge success. Anita and the team will be returning in the near future for more events so please check the alumni events calendar on our website and make sure we have your current email address and contact details to get notified as soon as they are announced.