Medicine Class of 1964 revisit Liverpool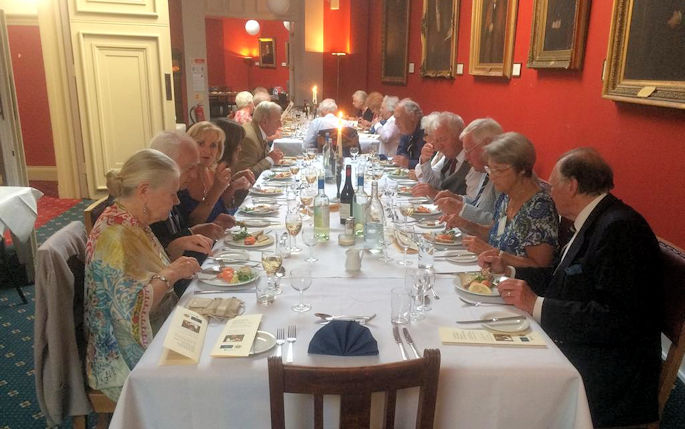 This summer, a group of alumni from the Medicine Class of 1964 returned to Liverpool to celebrate 55 years since graduating. Below, reunion organiser Chris Evans talks about what the group got up to over the course of the weekend.
"The Reunion of the 1964 medical graduates took place in Liverpool over the weekend of July 5, 6 and 7. We have met as a group 10 times and have always chosen a city centre hotel as our venue, this time we were booked into the fashionable Hope Street hotel.
"After checking into the hotel, we met together in the fifth floor function room with spectacular views over our city, and enjoyed a buffet supper. Memories and anecdotes were exchanged and at Jim Young's suggestion we told stories of famous or infamous persons with whom we had personal knowledge. The list of celebs or otherwise included Sir Ken Dodd, Dr Shipman, Tom Keating (Sexton Blake forger) and our wonderful Dean of the Medical School, Mr Jack Leggate.
"After a leisurely breakfast, we were joined by Marie Passey, a blue badge city guide and awaited our Selwyn's luxury coach to embark on a tour. Themes included cathedrals, football stadia, classical architecture, Beatles houses augmented by top hits on the coach's hifi, finishing with a drop off at the Liverpool Yacht Club Marina for a buffet lunch. Marie was a star and all agreed that this was the best city tour they had been on anywhere in the world!
"After a deserved afternoon siesta we proceeded along Hope Street to the Liverpool Medical Institution. A champagne reception in the Council Room, with nibbles, preceded adjournment to the lecture theatre. Here our guest of honour, Professor Colm O'Mahony, entertained us with his Irish wit and historical and medical awareness concerning the theme of 'From Dublin to Liverpool- not always easy sailing.' A past President of the LMI and national STD organisations, he was now an inspirer of undergraduates for the University and postgraduates for the RCP of London. We retired to the gallery where 50 year members and their guests enjoyed a six course gala dinner and wines provided by the in house caterers Real Food Co.
"We returned to the hotel by foot, taxis and cars. Digestives were enjoyed into the small hours and reminisces prevailed.
"An even more leisurely breakfast was enjoyed before accounts were settled and attendees departed to the countries of the UK, North America and Australia.
"Will the next one be in five years or fewer?"
Were you a medical student at the University of Liverpool and would like to organise your own reunion for a graduation anniversary milestone? Contact the Alumni Relations team via: alumni@liverpool.ac.uk and we will be happy to help.