Liverpool best place to be a young graduate in Britain, research finds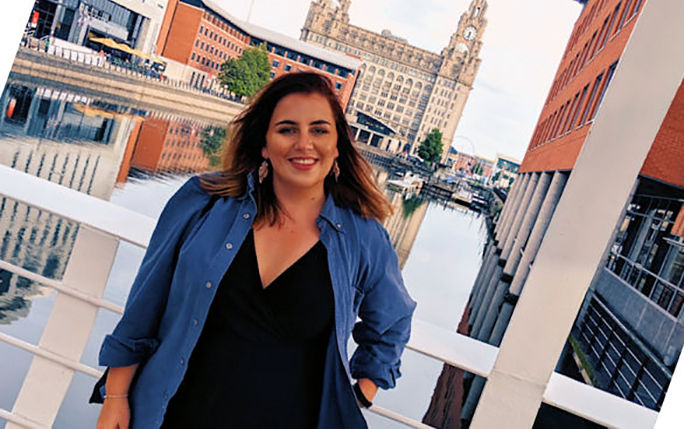 Liverpool is the best place in Britain to be a young graduate, according to research conducted by Savills estate agency for The Sunday Times.
Affordable housing costs, alongside good employment opportunities and a youthful population, make it the perfect city for the recent graduates.
According to the study, on average, people in Liverpool will pay £562 a month to rent a two-bedroom home, spending 30% of their earnings. The Sunday Times also reports that "entrepreneurialism is alive and well" in the City, "with 3,735 start-ups being launched in 2017."
Holly's story
Holly Fitzgerald graduated from the University of Liverpool's Management School with a degree in Marketing in 2017. She stayed in Liverpool and currently works as a brand marketing manager for the Webinar Vet, an online training platform for veterinarians started by a fellow University of Liverpool alumnus, Anthony Chadwick (BVSc 1990).
On her decision to stay in Liverpool Holly, who is originally from Worcestershire, said: "Affordability was one of the main reasons I knew I'd never move back home. All of my friends live in the city centre and you'd never dream of doing that starting out in London.
"In terms of where you can live and what you can afford, in Liverpool it's unreal. Public transport, taxis and eating out are all so affordable that you're able to live the life you'd hoped for.
"My friends are going into tech-focused roles at agencies that wouldn't have existed two or three years ago." She adds that many of them walk or cycle to work, or car-share to jobs outside the city centre.
The report highlights Liverpool's youthful population, the proportion of 21- to 24-year-olds in the area is 59% higher than the England and Wales average, which positively impacts the city's thriving social scene.
Quality of Life
Lawrence Bowles, research analyst for Savills, said: "New graduates will inevitably compare salaries with their friends and watch with envy as some — particularly those who enrol in London graduate schemes — appear to earn eye-watering sums within a year or two of graduating.
"But our analysis shows that salary is not the sole indicator of quality of life. Grads are likely to have more cash left over after paying the rent in Liverpool than in Lambeth, and can afford to buy a home sooner."
The full Sunday Times article, entitled 'The best places to live for graduates: from Liverpool to Aberdeen', can be found here.