Engineering graduate and social entrepreneur develops plastic circular economy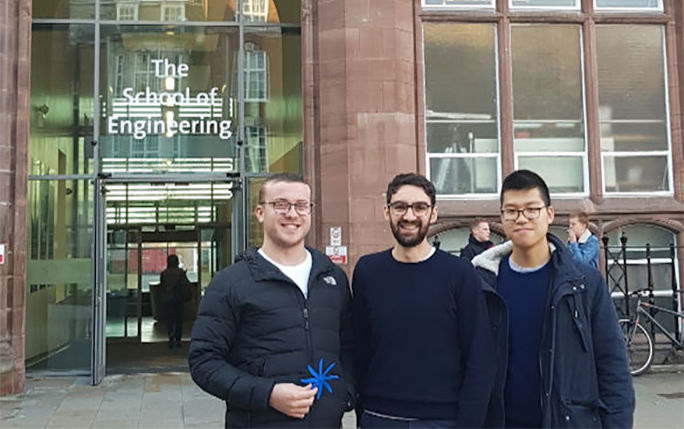 Meet Arthur Rowland (MEng Engineering with Product Design 2014), founder of Plastic Tactics, a Community Interest Company (CIC) aiming to empower individuals to tackle plastic pollution and over-consumption in the local Liverpool area.
After graduating from the University of Liverpool in 2014, Arthur worked as an engineer within various companies before embarking on his career as a social entrepreneur.
We caught up with Arthur to find out what motivated him to set up Plastic Tactics and what it is like to run your own social enterprise.
What were the main factors that led you to setting up Plastic Tactics?
I have always wanted to set up my own company and realised last year that it was time to put my money where my mouth is and just go for it.
Plastic is such a global issue that truly affects everyone and I wanted the business model of Plastic Tactics to reflect that. CICs are designed to benefit the community, not private stakeholders, so any profits generated are reinvested back into Plastic Tactics to boost our outreach and impact. Our main goal is to encourage people/organisations to respect our resources and to use and reuse plastic responsibly.
View this post on Instagram
What does Plastic Tactics do?
We aim to reduce the amount of plastic that is discarded unnecessarily by individuals and organisations. 'Waste' plastic is collected and shredded into tiny pieces of plastic confetti and this is then melted down and made in to something new.
Plastic Tactics provides access to useful information on plastic as a resource, builds practical equipment to demonstrate how plastic can be re-purposed and fosters collaborative relationships in the wider Liverpool area.
We deliver our message via a number of different channels including our on-site plastic transformation system – Plasticity. We are also currently in the process of setting up a plastic work-space to encourage individuals to turn waste plastics into creative and practical products themselves. I regularly visit the University too where I am working with engineering students on an up-coming project that will be on campus soon…so stay tuned!
View this post on Instagram
Can you describe what is involved in a typical day of running a CIC?
I can't really narrow it down to a typical day because there is so much going on – I could try and describe a typical month. A lot of my time is spent utilising all of my engineering skills for machine building – we build these ourselves using old parts and scrap.
There is then the event side of my role which consists of contacting event organisers to promote what we do and hopefully be able to display our work at the event – there is a lot of logistics involved. Our pilot of Plasticity was recently held at Africa Oye which was really amazing so hopefully we can continue building on this as so much single-use plastic is discarded at events.
I also meet with students at the University every week to discuss our project which you will hear about very soon!
View this post on Instagram
What is your vision for Plastic Tactics in five years' time?
I'd love for our plastic work-space to be up-and-running and generating income for people within the local area and helping to foster a sense of identity in the community too. By then I'd hope to be able to advise others on setting up enterprises focused on redirecting how plastic is used and disposed of.
Essentially, I would want to continue my outreach efforts around STEM to hopefully encourage people not to fixate on problems but to look for solutions around plastic – something I hope Plastic Tactics is already doing.
View this post on Instagram
To keep updated on Plastic Tactics visit their Facebook, Twitter and Instagram pages.
Visit Plastic Tactics' Patreon page to contribute to their activities and outreach.