Veterinary Alumni Association recognises exceptional student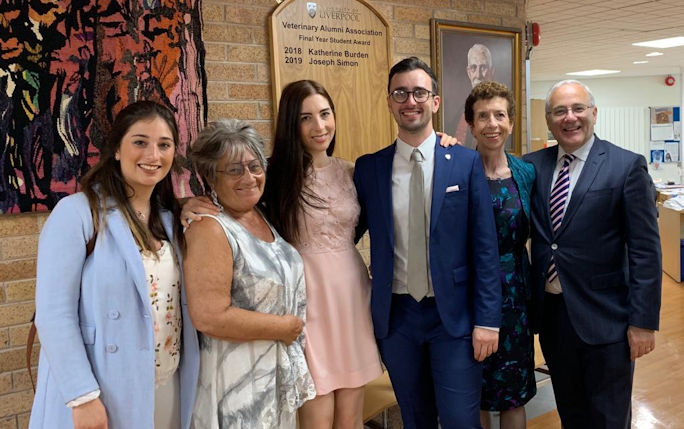 During summer graduations, the University of Liverpool Veterinary Alumni Association Final Year Student Award was awarded to Joe Simon (BVSc 2019).
The award, launched last year, is intended to recognise outstanding contributions of a final year student to life at the Veterinary Institute in Liverpool. This might be by providing help and support to fellow undergraduates; for example through participating in student politics and organisation of events that benefit the students.

Joe was nominated for this award by his fellow students. The work that Joe has put into the LGBT+ society is an asset to the vet school. He has organised amazing guest speakers including Sir Ian McKellen, Nigel Owens and Clare Balding, and helped to provide a safe space for the LGBT+ community. Joe is hard working and manages to balance organising these big events with all of the other work that comes with being a vet student. He is also a great friend, supporting others and pushing them to achieve their best.
On receiving the award, Joe said: "I will always remember Tuesday 16 July 2019 as one of the most special days of my life. First and foremost, it was the privilege of joining the RCVS register after a 10 year journey since deciding I wanted to be a vet. To then be acknowledged by the faculty and my peers for my extra-curricular work was the icing on the cake.
"This work truly became the most fulfilling part of my vet school experience, helping me forge links with many people and giving me the platform for shaping an even better faculty. Truly, I call the current and future vet students to keep their eyes open for any gaps in the student experience and then go out and fill it! You will receive so much from your commitment to your cause.
"I now look forward to what the next chapter has to bring as I move to London, delighted I will finally be on the payroll and ready to start treating my patients. Fundamentally, I will remember my wonderful five years at university and the pride it will always give me to say that I am a Liverpool alumnus. Thank you to the Faculty, alumni and Class of 2019 - you are all exceptional."
Joe has had a hugely positive impact on the vet school and should be an inspiration to the rest of the student body. The Veterinary Alumni Association is proud to recognise Joe's valuable contributions and look forward to receiving nominations in future years.