In memoriam: Bill Slater CBE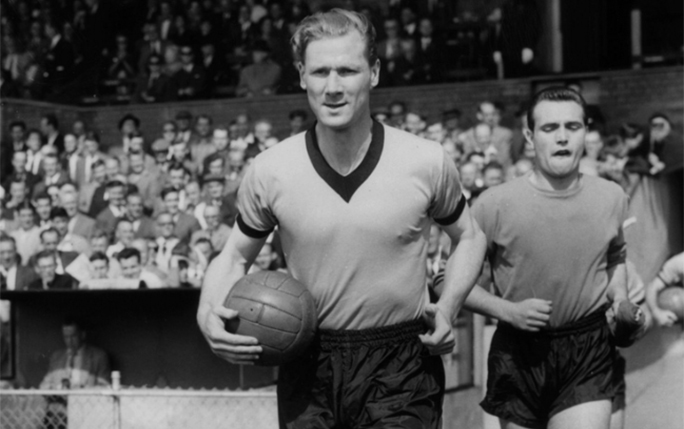 Alumnus, Professor Glen Jones (BSc Hons Biochemistry 1968, PhD 1971), shares his memories of former Director of Physical Education at the University of Liverpool, Bill Slater:
I was saddened to read in the 2019 Alumni magazine about the death in December 2018 of Bill Slater CBE which brought back memories for me of perhaps the last academic England international footballer.
Bill was a true gentleman and scholar having played for the England amateur team (1950-53), Great Britain Olympic amateur team (1952) and the full England national team (12 caps from 1954-1960 including the 1958 World Cup in Sweden). He was most famous for his time as a professional with Wolverhampton Wanderers (310 games from 1952-1963) in a career in which he won three Football League Championships, one FA Cup (1960) and the personal honour of being voted Football Writers' Footballer of the Year in 1960. All those achievements for a professional footballer would instantly rightfully earn him a tremendous amount of respect but Bill Slater was also a distinguished academic and sports administrator. He served as Director of Physical Education at University of Liverpool from 1968-1970.
I attended the University of Liverpool from 1964-1971 and played for the University football 1st team for a five year period during that time. It was there that I encountered Bill Slater and became star-struck not just because to his impressive achievements as a footballer but also because of his high ethical standards. He played and advocated the same ideals: you play by the rules (no such thing as a professional foul) and no swearing (trash talk in today's vernacular). You must remember that the 1960s was a time period when the latest Liverpool professionals were starting to earn trophies and it would have been easy to copy their sometimes 'crude' examples.
Slater had a profound influence on me even though, in the heat of the moment, I did not always follow his example. I had the pleasure of playing against Bill in the University of Liverpool Intramural Football League; the Department of Biochemistry team won it and beat his Physical Education Department team along the way. He was over 40 and a lost a step or two by then but played centre half and was imperious controlling the penalty box. He earned a lot of respect. Bill still hated to lose but was gracious in defeat.
As a University team member, one evening I was invited with several other players to his private home for a small reception with him and his wife. We were all on our best behaviour but could not resist asking him about his football career.
Despite his remarkable record, Bill was amazingly modest and preferred to tell us anecdotal stories about prominent figures of that era. Among them, he told us about the time in 1954 when Wolverhampton Wanderers, as English champions, were invited by the USSR to be ambassadors for British soccer and play Spartak Moscow in an attempt to thaw east-west relations. According to newsreels still on Google, Wolves won the match 4-0 but behind the scenes at about 11pm the night before the game, the Moscow road repair squad started digging up the road outside the Wolves hotel with pneumatic drills and heavy equipment. Gamesmanship or just needed road repairs?
Ironical, fast-forward 65 years later and I read that the Barcelona team were subjected to a noisy fireworks display outside their Liverpool hotel the night before their 0-4 defeat in April.
Bill Slater also told us about the 1958 World Cup in Sweden against Brazil when Pele first appeared on the scene. The manager at that time was Walter Winterbottom and team tactics were clearly in their infancy. In the pregame team talk, Mr Winterbottom reported that the scouts had warned them that Brazil's key player was Didi and Bill Slater should mark him man-for-man. When the game got going, Didi was given the ball repeatedly but Didi immediately laid it off every time and Bill could not get near him. England survived that game 0-0 but later failed to escape the group stages. It left him frustrated about big match preparation being left short.
In an era of modern football, where the game seems to hinge on God-given talent & metrics, it is refreshing to remember that there were once thinkers like Bill Slater in the game too.
Glenville Jones
Craine Professor of Biochemistry
Queen's University
Ontario, Canada
Comments
"I too was saddened to hear of the death of Bill Slater. Professor Glen Jones did not mention the fact that Bill served as the first Warden of McNair Hall. He did me the honour of appointing me as one of his Tutors. He also taught me the basics of squash, although I did not have much aptitude for the game. Along with Joan Kenworthy, Warden of Salisbury Hall, he laid the foundations for the Carnatic Halls. This involved some diplomacy as, up until then, men's and women's halls of residence were on different sites with different rules and regulations as well as traditions. He was also keen that all academic and social backgrounds should represented amongst all the residents. A very happy community resulted. It is sad that this is no more.
"I was never a footballer and hated it at school. However he encouraged me to bring my musical experience into play. The first music students had just been admitted that year. Naturally, he strongly supported the McNair football team and I believe that he had to get special permission from the FA to play for them as an amateur, after having been a professional."
Alan Jones
BSc 1961, MMus 2000
University Senior Administrative Staff, 1965-90; McNair Hall 1966-73