Spotlight on volunteering: Veterinary alumni again help to run successful careers fair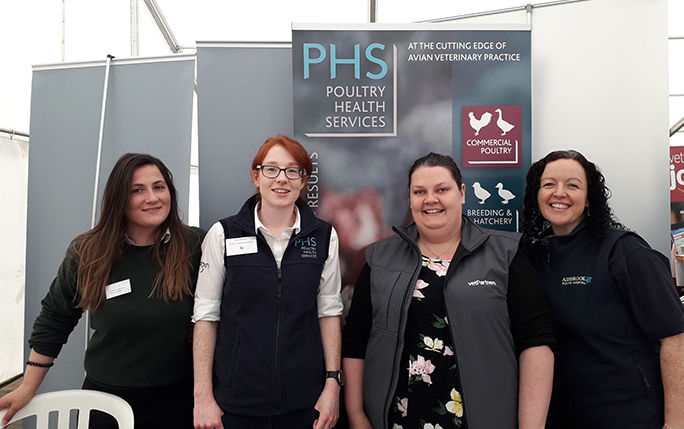 Building on the success of last year, the Liverpool University Veterinary Society (LUVS) and the University of Liverpool Veterinary Alumni Association (ULVAA) again hosted a careers fair for students at Leahurst. Many alumni were invited back to the University to give career talks, exhibit at stands, and provide one-to-one CV clinics with students.
A wide variety of the career paths open to graduates were discussed so as well as advice about working as an equine, farm or small animal vet, students also gained an insight into working in laboratories, for the government, and as a researcher. Sam Higgs, a fourth year veterinary student said: "The careers fair was a fun and informative day. Dr Harvey Locke (BVSc 1969) gave some very candid advice and useful tips on applying for jobs, whilst Iain Brady (BVSc 2018) added some light-hearted perspective on what can be a whirlwind first year in practice."
More than 50 students attended the one-to-one CV clinics, many of which were facilitated by alumni. Sam continued: "It was great to have the opportunity to meet veterinary professionals from many different walks of life, who gave us their valuable insight into cover letter and CV writing."
Alex Royden (BVSc 2014, MSc 2012 MRes 2015) currently works for Poultry Health Services as a poultry veterinarian in the north west of the UK. Alex recently completed her PhD at the University in the control of Campylobacter in commercial broiler production. She spoke to students about how research can lead to a specialism: "It was great to return to the University of Liverpool and discuss my career so far with the current undergraduates. The careers fair is a great initiative; I wish we had had something similar when I was at vet school. I hope that, if nothing else, the students will consider alternative and less traditional career paths within veterinary medicine."
The Institute of Veterinary Science has recently received a grant as part of INSPIRE; a UK-wide initiative aimed at engaging veterinary undergraduates with research. The scheme is co-ordinated by the Academy of Medical Sciences and support by the Wellcome Trust. Dr Sarah Taylor from Edinburgh University and Dr Frances Henson from the University of Cambridge were supported to give talks on a career in research as part of the Inspire program at Liverpool.
A huge thank you to all the alumni that volunteered their time to attend, and congratulations to LUVS for organising a great careers fair. Students Rob Noble, Harriet Lucas, Tom Lister, Christina Ratcliffe, Emily Prince, Jess Roe and Jess Lewin were on hand to help keep everything running smoothly on the day.
Find out more about the INSPIRE scheme here: www.liverpool.ac.uk/veterinary-science/research/inspire and if you'd be interested in volunteering your time at the next veterinary careers fair please e-mail the ULVAA Communications Officer, Dr Nicola Beesley (BVSc 2009, MSc 2009, PhD 2016), via: ulvaa@liverpool.ac.uk.