In the footsteps of a 1930s Marine Biology graduate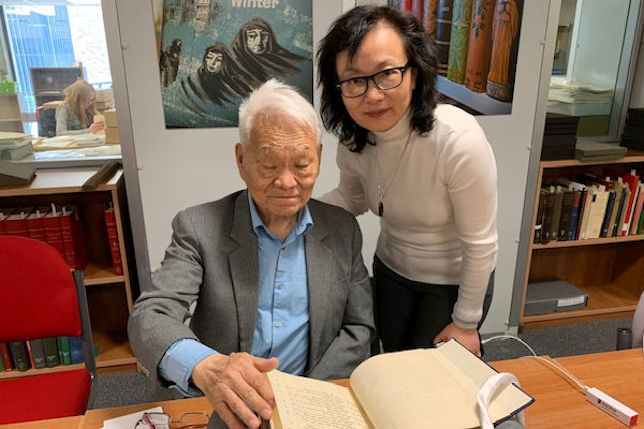 Relatives of a Marine Biology alumnus from the 1930s travelled all the way to Liverpool from Baltimore in the US to follow in his footsteps with a tour of campus.
For Professor Xue and his daughter, Jane, this was their first visit to Liverpool and both were extremely proud to be able visit the University buildings in which his father had studied. Professor Xue has donated several old photos of his father in Liverpool in the 1930s including one of Joseph Proudman, who was his father's tutor in 1932 and after whom the new National Oceanography Centre on Brownlow Street is named.
On their tour, Professor Xue even spotted the doorway to the Derby building, where he was able to have his photo taken in the exact same spot as his father had done 87 years ago.
Following the tour, Professor Xue and Jane met with the archives team at the Sydney Jones Library who were able to locate his father's thesis from 1932 and some old photos of the Oceanography department, based at Port Erin on the Isle of Man at the time. They were both overwhelmed to be able to see the work done by his father in the 1930s and took great pride in reading his work. They were also able to track down where Professor Xue's father he lived at the time on Bedford Street and took many photos to share with their family across the world.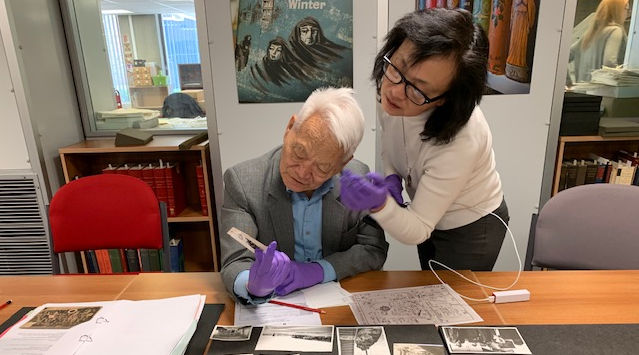 After finishing the tour, Jane commented: "It's incredible to think about the distinguished history of the University of Liverpool, and my father and I are thankful for the opportunity to catch a glimpse of the accomplishments this university boasts. To our family, and my father especially, the University of Liverpool holds a special place in our heart for supporting and educating my grandfather, which was such a privilege and honour for a Chinese scholar at that time. It touches our hearts to be able to see his legacy here and to see the University's sustained commitment to supporting international scholars."
If you are a graduate of the University of Liverpool and would like to arrange a tour of the University please contact the Alumni Relations team via: alumni@liverpool.ac.uk.