1979 Archaeology alumnae reunion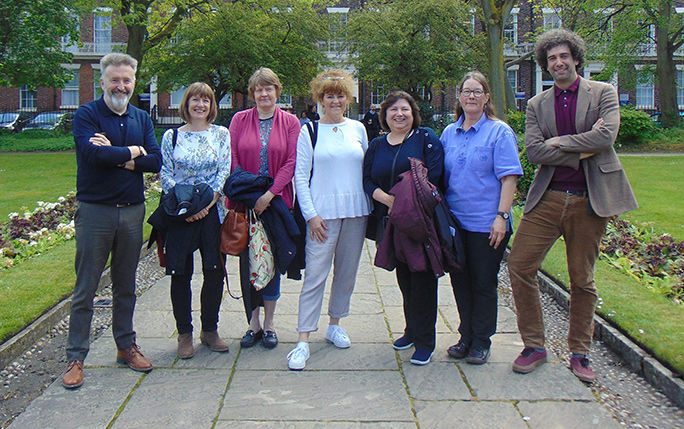 A group of five Archaeology alumnae reunited on campus this month, coming together for the first time in 40 years.
Sarah Chapman, Gill Leonard, Rebecca Clarke, Suzanne Allin and Moyra McNicholas all began their Archaeology degrees together in 1979 and have remained in touch with each other ever since.
Celebrating 40 years of friendship, the five visited campus and participated in a tour around the Department of Archaeology, Classics and Egyptology (ACE) where they met Head of Department, Professor Keith Dobney and senior lecturer in Egyptology and fellow graduate, Dr Glenn Godenho (BA Hons Oriental Studies 2002, MA Egyptology 2003, PhD 2008.)
The alumnae also were able to visit the artificial cave in the Central Teaching Laboratories that is used to teach students about ancient art as well as attending the launch event of Before Egypt, a major new exhibition featuring the internationally important collections of Predynastic Egyptian and Nubian artefacts, at the Victoria Gallery & Museum.
Speaking of their visit, alumna Gill Leonard said: "We had a fabulous afternoon and it was great to see the different labs. Things have changed a lot in the last 40 years, things are far more scientific. I remember when the department had one Nikon microscope which they were very proud of!
"We were very lucky to be there on the same day as the launch of the Before Egypt exhibition, it was obviously meant to be. We enjoyed meeting the current students and I note that Egyptology is very popular!"
If you would like to organise a reunion for your own class year, attend an event or come back and visit campus, you can contact the Alumni Relations team on: alumni@liverpool.ac.uk and we will be happy to help.