Consultation on £1billion estate plans launches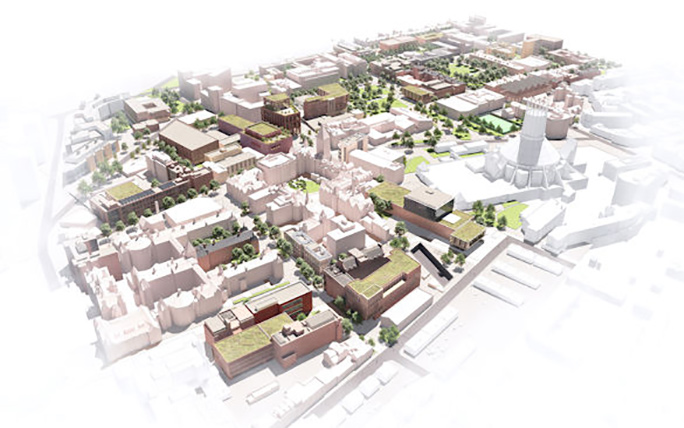 Alumni are invited to share their thoughts on the University's £1billion Masterplan Estate Strategy, which outlines the vision for its estate over the next 15 years and beyond.
The Masterplan sets out a wide range of proposals, with early projects including the development of a £23m showcase building for the School of Architecture; a new £42m Electrical Engineering and Electronics facility; significant enhancements to the Veterinary Institute facilities at the Leahurst campus; a new multi-storey car park and the creation of a new University Park opposite Liverpool Metropolitan Cathedral.
Building projects which have been announced in recent months, such as the Digital Innovation Facility and the Arts and Humanities Centre, as well as a range of other facilities to enhance teaching, research and impact and student life space on the University's campuses are also included.
An exciting future vision
The University's Vice-Chancellor, Professor Dame Janet Beer, said, "We are proud of our place in the city and of our architectural heritage. Our plans are sensitive to this and provide exciting new opportunities to further enhance the appearance of our campuses and their surroundings.
"Whilst our estate already boasts some world-class facilities and wonderful spaces, we need continued investment to best support our ambitious future plans. This Masterplan provides an exciting, clear and coherent vision for our university campuses and includes significant investment which will have a number of positive regional impacts, not least on the economy.
"I'm keen to hear what staff, students and the general public think of these proposals."
1,000 tree campus
The Masterplan creates a new University Park in the heart of the Liverpool campus, together with plans to revitalise existing courtyards, turning them into green pockets. It also includes a commitment to becoming a 1,000 tree campus, with a carefully devised public realm vision to support the University's commitments to sustainability and wellbeing.
To achieve this, the Masterplan includes proposals to remove small, disparate car parks in the centre of the Liverpool campus and replace these with three multi-storey car parks towards its perimeter.
Plans to improve accessibility and further promote equality, diversity and inclusivity on campus are also a key part of the proposals.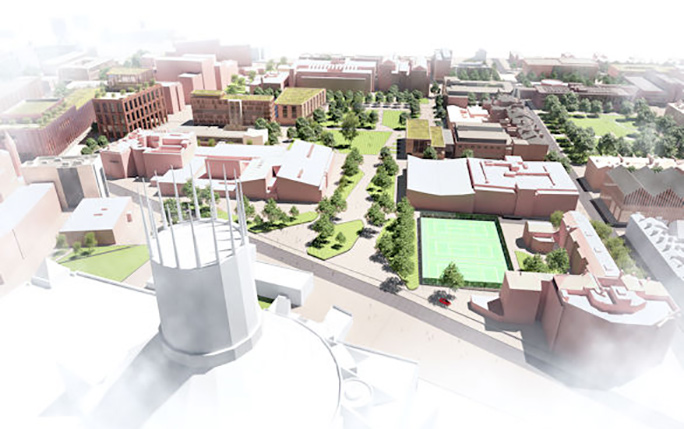 Leahurst
Significant investment is also planned for the University's Leahurst campus, based in Cheshire, which is home to the Institute of Veterinary Science. This includes major developments for equine care, expanded research facilities and a redeveloped student skills zone.
Consultation
Webpages with more details on the Masterplan and a feedback form are available here.
In addition, consultation displays providing details on the Masterplan are on show until Friday 10 May on the ground floor of the Guild of Students' building (the Street). Staff from the University's Facilities, Residential and Commercial Services team and the Masterplan's architects, Feilden Clegg Bradley Studios, will be available 12-1pm and 2-3pm on Wednesday 1 May and Friday 10 May in this location to answer questions and hear feedback.
A specific feedback session for the general public will take place on Wednesday 1 May, 5-7pm in the Bronte Youth and Community Centre, Trowbridge St.
Consultation displays will also be available at the Leahurst campus in Leahurst House Refectory Entrance from Thursday, 2 May to Friday, 10 May. On Wednesday, 22 May staff from Facilities, Residential and Commercial Services and the Masterplan's architects, Feilden Clegg Bradley Studios, will be available 3-7pm in the Leahurst lecture theatre to answer questions and hear feedback.