Celebrating 20th anniversary of Liverpool-Shanghai twinning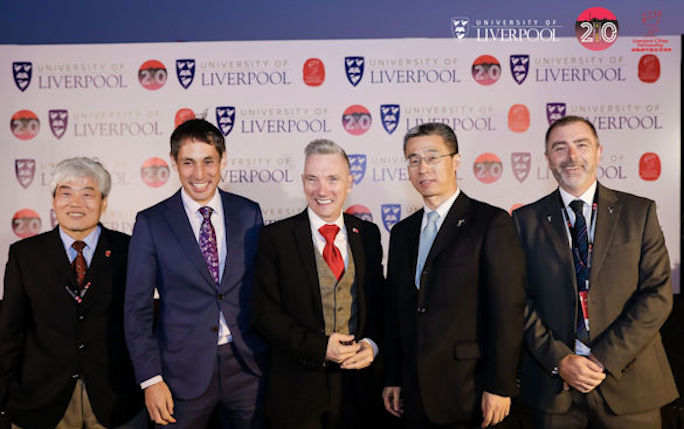 The University has played a key role in a series of events held in Shanghai to coincide with the 20th anniversary of the city's official twinning with Liverpool.
Colleagues were part of a joint public-private sector delegation seeking to strengthen the links between the two cities in education, healthcare, commerce and government.
The University's research capabilities were showcased at the China Shanghai International Technology Fair, where Liverpool was the guest city of honour, with a spotlight on the Materials Innovation Factory and the Virtual Engineering Centre.
More than 100 alumni from Shanghai and beyond attended two events organised by the University on the city's historic Bund, where the association between the cities is reflected in an architectural resemblance to Liverpool's own waterfront.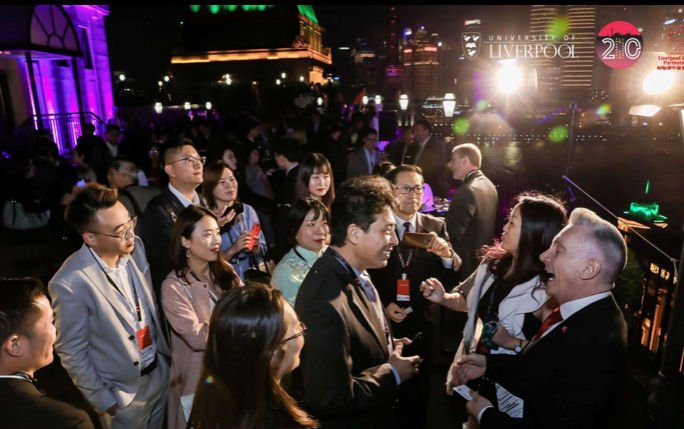 Meanwhile the University delivered a workshop designed to enhance our student recruitment activities across China and met with the Shanghai government's education department.
Colleagues from Xi'an Jiaotong-Liverpool University, which is based west of Shanghai in the city of Suzhou, were also involved in several events and hosted a campus visit by our partner organisations from across Liverpool.
Professor Gavin Brown, Pro-Vice-Chancellor for Education, led the University's delegation. He explained: "The visit presented a rare opportunity for us to further strengthen the University's relationships in China while at the same time vividly demonstrating to partners in Liverpool why our international role is valuable to the city.
"Our large and rapidly growing alumni community in Shanghai represents a new era of a cultural association between the cities that began through connections between our ports hundreds of years ago. Meanwhile our research links, for example the partnership between our University and East China University of Science and Technology to develop materials that will help to address pollution and future energy demand, point to a future of collaboration in addressing some of the challenges facing both cities and the world beyond.
"Our relationship with China will remain important to the University's research, teaching and civic role for years to come, and the various meetings and events in Shanghai served to strengthen existing ties as well as create some valuable new ones."
A number of the events taking place during the week contributed to the University's strategies to attract international students and increase engagement with our growing global alumni community.
One of the main events in the two cities' programme put the spotlight on the University and its alumni in the Shanghai area, with more than 80 in attendance to network and hear speeches from senior officials representing both cities together with Professor Gavin Brown, the British Consul-General in Shanghai John Edwards and the Executive President of XJTLU Professor Youmin Xi.
Tim Seamans, Director of External Relations, said: "We currently have around 15,000 alumni in China and the number is growing significantly every year thanks to the University's success in attracting Chinese students, including through our partnerships with XJTLU and Kaplan.
"One of our priorities is to ensure our graduates are able to maintain a relationship with the University throughout their lives, wherever they are based. This means continuing to communicate with them and creating opportunities to remain involved with us, and we have to think creatively about how to do this with such a large community on the other side of the world. The visit of a delegation from Liverpool was a great way to make a connection and our development and alumni relations team worked closely with colleagues from the city council to pull off a unique and memorable event."
Other events included two special lectures for University of Liverpool alumni delivered by one of the most prominent Liverpool graduates in China, William Lindesay OBE (BSc Hons Geology 1979), who presented a special lecture on his life's work of exploring, researching and protecting the Great Wall of China. There were events in both Shanghai and Beijing, which saw guests enjoy a fascinating evening learning about William's exploration of the Great Wall.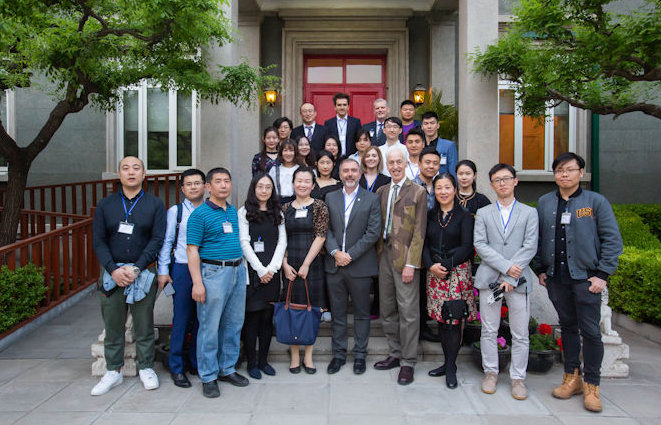 The wider Liverpool delegation was led by Gary Millar, the Deputy Mayor of Liverpool, who said: "Liverpool has long been an outward-looking city and its relationship with Shanghai and China more broadly is a shining example. We are proud to be home to the longest-established Chinese community in Europe and now we welcome thousands of new Chinese students each year – among them those from XJTLU, the impressive success of which was highlighted by the visit. Together, these and other students from home and abroad make a vital contribution to Liverpool's economy and further enrich our culture.
"It was an honour to meet many University of Liverpool alumni in Shanghai, highlighting their role as lifelong global ambassadors both for the University and for the City of Liverpool.
"The University's contribution to the 20th anniversary events was a fantastic demonstration of how its research capability and appeal to students place it among Liverpool's most important assets on the world stage."