Students take home top prize at Engineering YES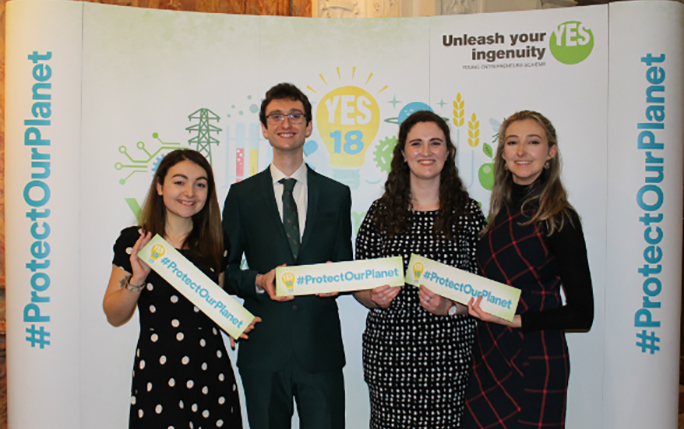 A team of inventive PhD students has scooped top prize at a national enterprise competition with a novel idea to reduce non-degradable single-use plastic in laboratories.
Niamh McCallum, a PhD student in the Institute of Translational Medicine and Claudia Fryer, a PhD student in the Department of Chemistry, were part of the successful team that won the Young Entrepreneurs Scheme (YES) Engineering Competition 2018, which was held at the Royal Society in London on 11 December.
The 2018 winning team, LactoLab, was supported by the Newcastle-Liverpool-Durham BBSRC DTP and made up of students from the three partner universities. They pitched a hypothetical business plan on how to reduce non-degradable single-use plastic in labs by providing a compostable alternative using food industry by-products. Their leap of imagination was to create a plastic that is rendered chemically and biologically inert through a novel coating.
The Lactolab winners said: "Overcoming the challenge of being from separate universities really brought us together as a team; we have loved participating in YES and it has made us consider a career in business! We are so delighted to have won and will definitely be keeping in touch with our new friends from across the country."
LactoLab, were supported by University of Liverpool's IP Commercialisation Team, Laura David said "I really enjoyed working as a YES18 mentor this year. I am extremely proud of the Lactolab team for making it to the final and winning the Engineering prize on the night. It is a reflection of their entrepreneurial spirit and all their hard work and enthusiasm. It is also a result of the strong focus on innovation at University of Liverpool".
This year, there were 117 people from 70 organisations involved in supporting the competition, who donated a total of 700 hours of their time. Dr Malcolm Skingle CBE, Director of Academic Liaison at GSK, commented: "GSK is delighted to support this initiative that helps ECRs gain valuable transferable skills. It is also a fantastic opportunity for ECRs to cultivate strong business and industry networks."
Engineering YES aims to raise awareness of the commercialisation of engineering ideas and encourages enterprise amongst postgraduate research students and post-doctoral researchers. The annual competition, founded in 2009, invites participants to showcase their innovation and teamwork skills to industry experts from commercial, financial and engineering sectors.