Metallurgy and Materials Science Class of 1967 reunite 51 years on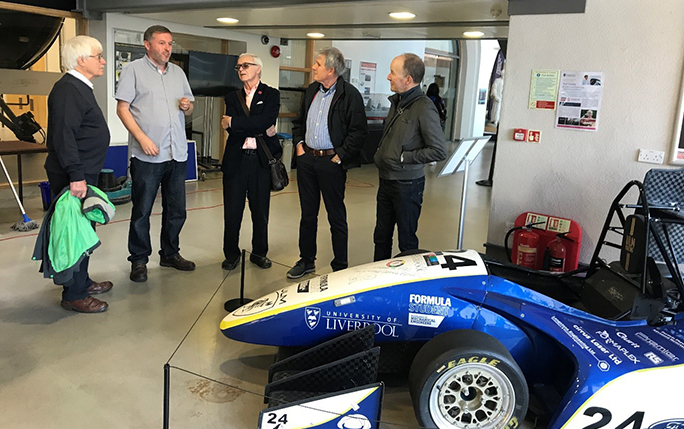 The Metallurgy and Materials Science Class of 1967 celebrated 51 years since graduating from the University of Liverpool by returning to the School of Engineering.
The group were welcomed back to the school by Dr John Myerscough, before being taken on a tour by Civil Engineering lecturer, Steven Bode to reminisce about their experiences as engineering students over 50 years ago.
Naturally, the graduates discovered that lots had changed, not only the interior of the school but the student experience altogether. From the annual, student-led World Human Powered Speed Challenge, which takes place at Battle Mountain, Nevada to 3D printing equipment to motion flight simulators, the group were inspired by the new facilities that are now housed within the School of Engineering.
Metallurgy graduate, Andy Howard (BEng, 1967) wrote a poem to commemorate the reunion:
"From Liverpool to Sydney a raving I went,
And to stay in that country was my good intent,
But drinking strong whiskey like other damn fools,
I was very soon shanghaied back to Liverpool.
Or at least – 51 years later!"
For more photographs of the reunion view the online alumni gallery.
If you would like to arrange a reunion for your class year or would like to discuss how the Alumni Relations team can help you to reunite with your former University friend, contact the team on: alumni@liverpool.ac.uk and we will be happy to help.