IntoUniversity North Liverpool Centre celebrates 1st Birthday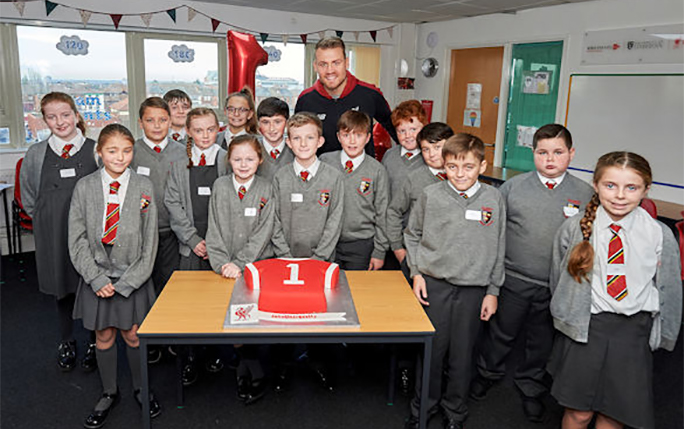 Liverpool FC Goalkeeper, Simon Mignolet returned to IntoUniversity North Liverpool to help celebrate the centre's triumphant first birthday.
Liverpool FC Goalkeeper, Simon Mignolet returned to IntoUniversity North Liverpool this week (Monday, 26 November) to help celebrate the centre's triumphant first birthday.
The Anfield centre is a collaboration between educational charity IntoUniversity, the University of Liverpool and the Liverpool Football Club Foundation, set up to help young people in Anfield to do better at school and believe in their ability to get to university. In parts of North Liverpool where the centre operates, the higher education progression rate is as low as 17.5%, less than half the national average (37%).
The project, which has benefited from nearly £200,000 in donations by alumni and supporters of the University, is celebrating a successful year, having exceeded all its annual targets; with more than 1,100 local children attending to take advantage of the centre's support services and many reporting they are working better at school as a result.
The centre partners with a selection of primary and secondary schools in the local area, supporting students aged 7 to 18, by providing after-school help with homework and one-to-one mentoring opportunities with University of Liverpool students, as well as delivering workshops on careers and university life.
During the event, children from All Saints Catholic Primary School, one of the six local schools that works with the centre, were taking part in a workshop about careers in sports organisations, when the Liverpool FC star surprised them.
Having attended the launch of the centre last year, Simon, who has a degree in Political Science, was keen to hear about the centre's accomplishments. He said: "It has been great to come back and learn about the difference that the centre has made to local children; helping them with their school work and making them feel more confident about continuing education.
"University may not be for everyone, but all children should have the option and the support to get there if they want to."
As well as quizzing the tutors about their accomplishments and the students about their career aspirations, Simon then answered questions from the children, about his academic achievements as well as those as a professional footballer.
Gavin Brown, Pro-Vice-Chancellor for Education, University of Liverpool, said: "I would like to congratulate the Centre and its students on their first-year successes.
"At the University of Liverpool, we firmly believe that anyone with the talent to pursue study in higher education should be given the opportunity and encouragement to do so. As such we are delighted to be working with two organisations, IntoUniversity and the LFC Foundation, that align so well with our desire to widen participation and raise aspirations.
"What the Centre has achieved since opening last year is a testament to a partnership which helps young people realise that higher education is indeed an option and assists them in making the most of their talents and abilities.
"With the continued help of our students, staff, alumni and partners, we will continue to provide academic support and inspiration for school students in the heart of our community."
Dr Rachel Carr, CEO of IntoUniversity, says "We are so pleased that the centre in Liverpool has had a real impact in its first year and we are excited to see where we can go from here. The desire for a space like this in Anfield is clear – in our first year we have surpassed targets for student numbers in every part of the program me. We have had fantastic support from our school partners and the students have been so committed and willing to learn!"
More information about the Centre can be found here or, to find out how you can help to support future generations of children at the centre, visit the fundraising appeal pages.