Maria Balshaw: "absolutely unbelievable" to be returning as Honorary Graduate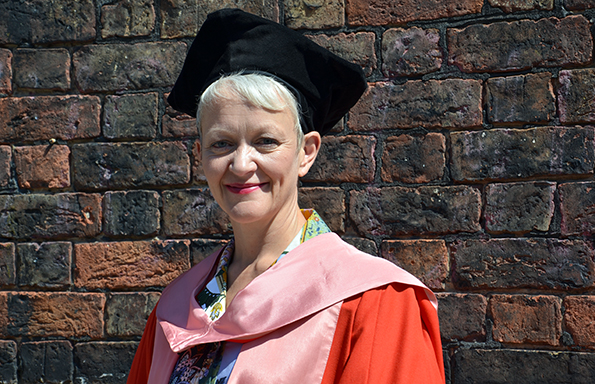 The first female Director of the Tate, Maria Balshaw said her Liverpool student self would consider it "absolutely unbelievable" to be returning 27 years later as an Honorary Graduate.
The former Director of Culture at Manchester City Council graduated from the University in 1991, with a BA (Hons) in English Literature and Cultural Studies.
She said: "It's a real pleasure to be asked to come back, 27 years since my first degree here.
"I've spent a lot of time in Liverpool since but it is particularly nice to be offered this honour in the year I have taken up the role as Director of all four Tates, so now have a formal role in the city."
Maria said it was thanks to the "great encouragement" of her lecturers here in Liverpool that she went on to pursue post graduate study; gaining an MA in Critical Theory, followed by a DPhil in African American Visual and Literary Culture, both from the University of Sussex.
But it was her time in Liverpool that sowed the seeds of her future career at the pinnacle of the British art scene.
Maria said: "It was a fortunate accident.
"I fell in love with going to galleries and thinking about art while here in Liverpool – it was one of my big experiences.
"I come from a small town so to be in a place with galleries, good theatres and culture was really important."
With an established research background, Maria diverted from her "training to be an academic" path after "somebody suggested" she apply for a research project partnering arts organisations with schools. She got the job and "as soon as I started, I was thinking; really this is what I'm supposed to be doing".
Today, she is on the National Council of the Arts Council England and was appointed a CBE in the Queen's birthday honours list for Services to the Arts.
And her passion for role of art in education remains undimmed.
Maria said: "Art allows you to see the world through somebody else's eyes.
"In a complex, divided and competitive world I think that is ever more important."
Speaking to this year's cohort of University of Liverpool graduates, Maria Balshaw said: "Don't limit what you think you can do and don't expect to know what you are going to do."