Santander renews partnership with University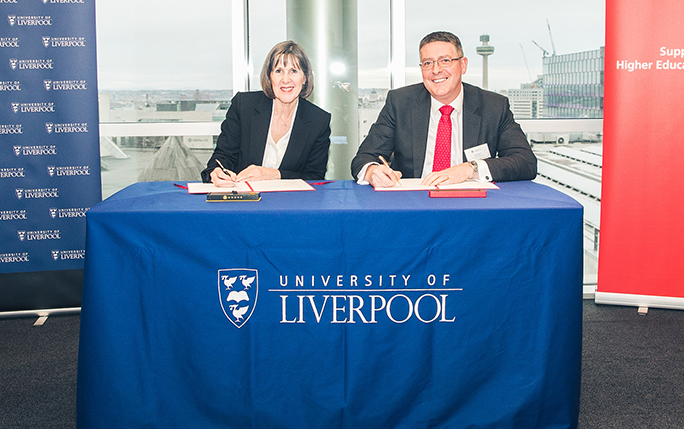 Santander has renewed its partnership with the University, which will provide further scholarship support and awards to students studying at undergraduate and postgraduate level.
Under the partnership, Santander will provide financial support for a further three years to fund studentships and bursaries.
Both organisations originally joined forces in 2012 to, at first, provide scholarship support and awards for students studying at both undergraduate and postgraduate level, and to provide funding to support lectures in which prominent business figures will come to speak at the University.
The second agreement saw a focus on fostering internationalisation for students as well as staff, promoting the transfer of knowledge between institutions as well as to give a financial boost to entrepreneurs and researchers in their projects.
Employment, Education and Entrepreneurship
The new agreement concentrates on three overarching pillars Employment, Education and Entrepreneurship, which includes the provision of study abroad opportunities for WP students and also facilitates engagement between Management students and global employers. The agreement will also provide support for enterprising students who require funding to make their idea a reality.
Santander also supports the University in engaging with local SMEs via the University's Careers & Employability Service, who facilitate student and recent graduate placements.
Santander, through its Santander Universities division, maintains partnerships with over 1,200 academic institutions in 20 countries. Santander Universities was introduced in the UK in 2007 and the bank is already collaborating with more than 80 British Universities and Higher Education Institutions, with agreements focused on promoting international exchange, entrepreneurial activities and the mobility of students and researchers within the network.
Since 2012, Santander's philanthropic support has had a tremendous impact including:
125 graduate placements leading to £8,000,000+ additional SME turnover
37 students have studied abroad at nine universities on three continents
More than 150 of Liverpool's SMEs have chosen to recruit a student intern or recent graduate through the University of Liverpool programme.
Enhancing employability
Vice-Chancellor, Professor Dame Janet Beer, said: "We are committed to providing our students with a high quality intellectual environment, dedicated to enhancing employability wherever our graduates wish to work in the world. The University of Liverpool has been proud to work with Santander to create wonderful educational opportunities over the last six years and we are delighted to be extending this relationship.
"Santander's generosity has allowed the members of our community to gain access to additional opportunities for development and I am very proud of all they have accomplished. With their support, the University of Liverpool has been able to enhance the experience of our students and our researchers, and, in addition, we have connected with many innovative SMEs in Merseyside.
"Our partnership with Santander helps us to further support the next generation of global leaders and develop new links with the international business and entrepreneurial community."
'Delighted'
Matt Hutnell, Director of Santander Universities UK, commented: "Santander is committed to supporting higher education as well as local communities across the UK. Our partnership is a great example of how two very different institutions can work together and run joint programmes that help both students and also support the local community.
"We are delighted to extend our collaboration agreement with the University of Liverpool and very much look forward to this relationship developing further in the coming years."