Cross-faculty child health research collaboration launched with Alder Hey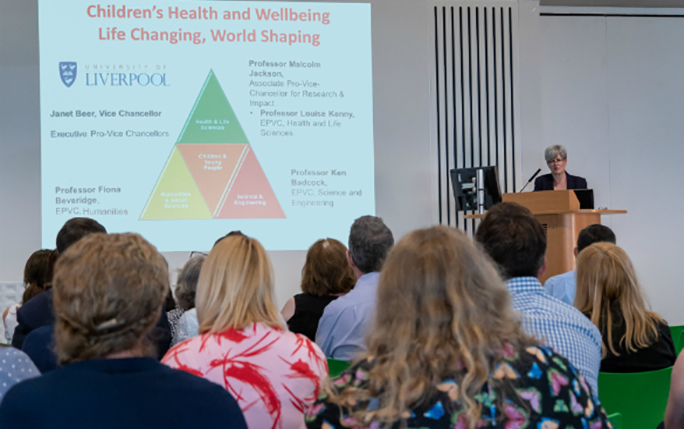 A new 'Children's Health and Wellbeing' strategic collaboration between all three faculties of the University of Liverpool and Alder Hey Children's Hospital was officially launched at a special event this week.
The event at Alder Hey's Institute in the Park brought together staff and senior representatives from both organisations to learn more about plans for the collaboration, hear from successful case studies, discuss funding opportunities, pitch research ideas, and informally network.
Professor Michael Beresford, Brough Chair and Professor of Child Health at the University of Liverpool, said: "The launch marks the start of an exciting new chapter in the University's long-standing partnership with Alder Hey that will transform the future of children's health and wellbeing research in Liverpool.
"By creating a vibrant culture of support and collaboration among academics and clinicians, we can help achieve our shared vision to improve the health and life outcomes for children locally, nationally and internationally."
Professor Fiona Beveridge, Executive Pro-Vice-Chancellor for Humanities and Social Sciences, who spoke at the event said: "Across the University we have an outstanding tradition of providing significant and meaningful contributions towards improving the quality of life and outcomes for children. From cutting edge research into digital healthcare technologies, to clinical research trials and work on social policy and human rights, this partnership aims to strengthen existing collaborations and develop new ones."
Other speakers from the University included Professor Ken Badcock, Executive Pro-Vice-Chancellor for Science and Engineering and Professor Malcolm Jackson, Associate PVC for Research and Impact for Health and Life Sciences on behalf of Professor Louise Kenny, Executive Pro-Vice-Chancellor for Health and Life Sciences. They were joined by Alder Hey Chief Executive, Louise Shepherd and Director of Research, Professor Matthew Peak.
As part of the event the first funding call for the Hugh Greenwood Legacy Children's Health Research fund was also launched. The fund, which was announced earlier this year following an £800,000 donation to the Development and Alumni Relations team by The Children's Research Fund, aims to promote and develop collaborative child health research projects between the University of Liverpool and Alder Hey Children's Hospital.
The event ended with a mini Hackathon session where over a hundred attendees had just one minute to pitch their research and the problems they're looking to address, with the aim of sparking potential new collaborations.
The Hugh Greenwood Legacy Children's Health Research fund, named after its patron and Honorary Graduate, Sir Hugh Greenwood OBE (Hon LLD 2012), supports co-supervised (non-clinical) PhD studentships, clinical fellowships and collaborative pump priming awards. The deadline for the first round of funding is 4pm on Wednesday, 5 September 2018. For further information and guidance please visit: www.liverpool.ac.uk/research/collaborate/how-you-can-work-with-us/hugh-greenwood-legacy.