Students go head-to-head with XJTLU in robotics competition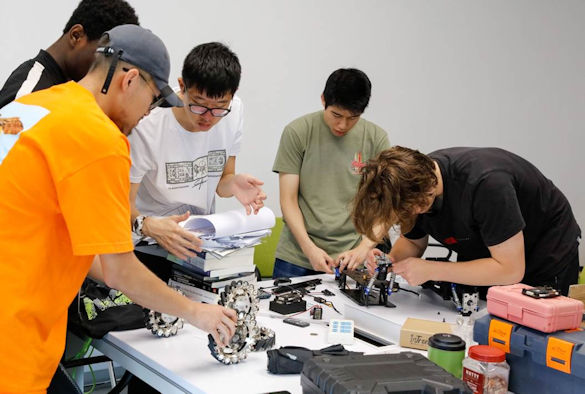 A team of students from the University's Coding and Robotics Club (CRC) have taken part in a competition with Liverpool's international joint venture university in Suzhou, China – Xi'an Jiaotong-Liverpool University (XJTLU).
The team, which included four electrical engineering and electronics students, one computer science student and one physics student, travelled to China to meet with the XJTLU robotics club, G-Master, to test their skills designing, engineering and building games and robots.
The competition is a Faculty Educational Enhancement Project funded by the Faculty International Mobility Fund, the Study Abroad Programme, the School of Electrical Engineering, Electronics and Computer Science (EEECS) and the Department of Electrical Engineering and Electronics (EEE). It was organised by the academic leads at both universities, Dr. Xin Tu (UoL) and Dr. Yang Du (XJTLU), and was designed to broaden the students' international experience, giving them transferable employment skills and developing their cultural awareness through the exchange of ideas and skills.
The project, which took place in June, gave the students the opportunity to work together and collaborate as well as compete at numerous activities from building games, to designing and creating robots.
The activities included:
Designing and building smart cars based on Arduino which could be controlled using a mobile phone or hand gesture controller
Designing and building TREEE smart cars (line tracing smart cars) developed on the basis of Arduino Nano board
Training with RoboMaster robots before building a basic RoboMaster structure with remote control
A race day where the teams pitted their smart cars against each other
As part of the week-long trip, the students from both universities got a chance to better understand the history and development of the university in Suzhou with a visit to the Museum of XJTLU. The team also got the chance to visit the robotics industry and technology incubation science park in Suzhou, robotics technology transfer incubation at Yangcheng Lake International Science Park, Huibo Robotic company in Singapore Industry Park as well as the old town of Suzhou, Times Square and Jinji Lake.
Commenting on the experience, one of the students from the University of Liverpool team said: "This was a once in a lifetime opportunity to visit a country with a vastly different culture. The insight into robotics and engineering in China is something that you just cannot learn in the classroom and has definitely given me a new perspective going forward."
The team members from CRC which took part in the trip included:
Taher Nurbhai (Team leader, EEE, Year 2)
Li Arzapalo Miguel Angel (EEE, Year 1)
Moises Barbera Ramos (Physics, Year 2)
James Harding (EEE, Year 1)
Nii Yemo Yemo-Quarshie (Computer Science, Year 1)
Yongwei Yi (EEE, Year 2)